Summer is finally here, and we're delighted to share a new range of canned food recipes that work especially well for those camping and caravanning with limited kitchen space. These recipes are suitable for cooking on a single gas ring stove or campfire, with minimal preparation but maximum flavour. Hearty and filling, these are some of our favourite meal options for feeding families after action packed days out, warming up in wet weather – or simply cooking a no-fuss supper so you can enjoy your holiday.
Seafood suppers
These moreish Prawn Tacos are a hit with everyone, so don't bank on having any leftovers. The prawns, red onion, vine tomatoes, canned black beans and canned sweetcorn are fried all together with Cajun spice in one pan, for ease – perfect for a single ring stove. Served straight from the pan into tortillas, the spicy filling works brilliantly with 'build your own' taco extras including sliced avocado, Greek yogurt, coriander, and a squeeze of lime. Coming in under 500 calories per serving with 28g protein, you've even got room for a cold beer or two!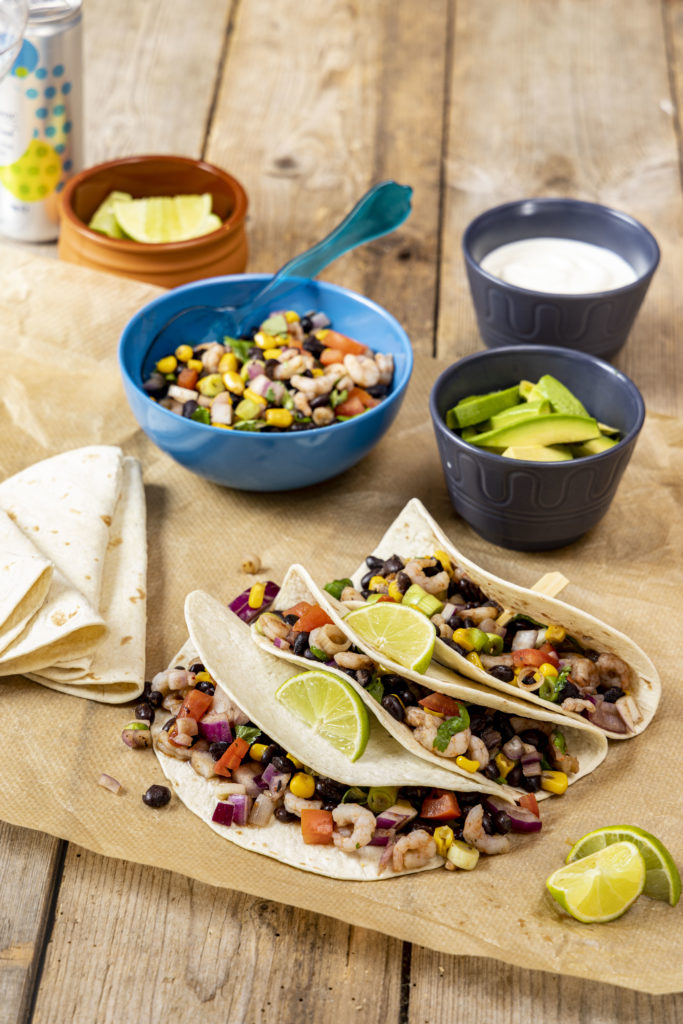 Sometimes it's the simplest recipes that can be the most delicious, and that's especially true for pasta dishes. This Salmon Tagliatelle is super straightforward, and is a particularly good choice for active days, delivering a huge 40g protein per serving. A simple sauce made from fried garlic and onion, crème fraiche and lemon dresses freshly cooked tagliatelle pasta and a can each of Wild Red Alaskan Salmon and drained broad beans. Fantastic with a sprinkle of grated parmesan, green salad or a slice of crusty bread and salted butter, we can see this recipe quickly becoming a holiday favourite.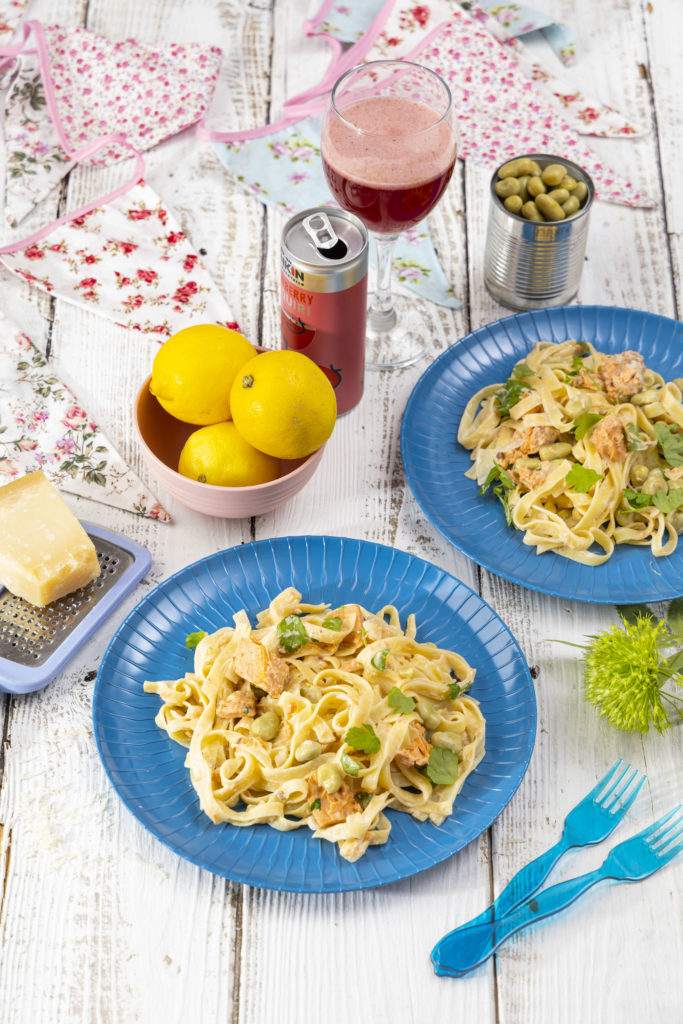 And we can't talk about seafood pasta without a mention for the classic Tuna Bean Pasta which works equally well as a hot supper or cooked and cooled as a lunchbox classic. A low calorie (under 360 calories per serving) and low-fat dish, this recipe combines sautéed red onion, peppers and chilli with Fusilli pasta, lemon, and canned tuna and cannellini beans.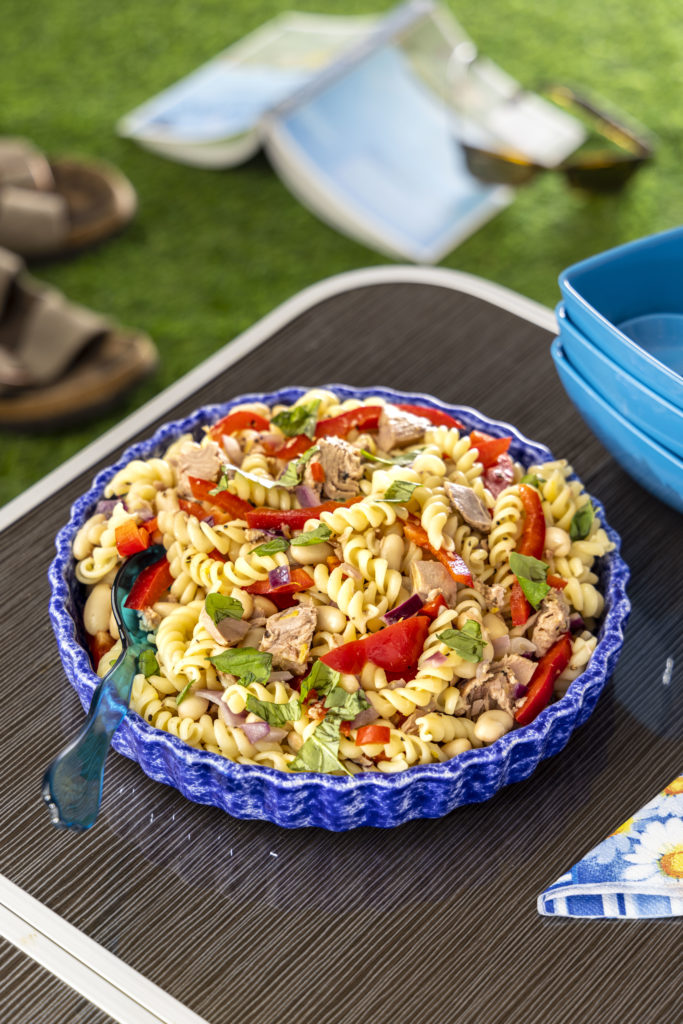 Camping comfort food
For many, camping and caravanning holidays require some serious comfort food. Menu planning with these dishes guarantees warmth, comfort, and a full stomach – essential at the end of what could be a tiring or chilly day. Chilli is a camping classic, and our recipe for Mixed Bean Chilli is a great choice for a crowd including vegetarians.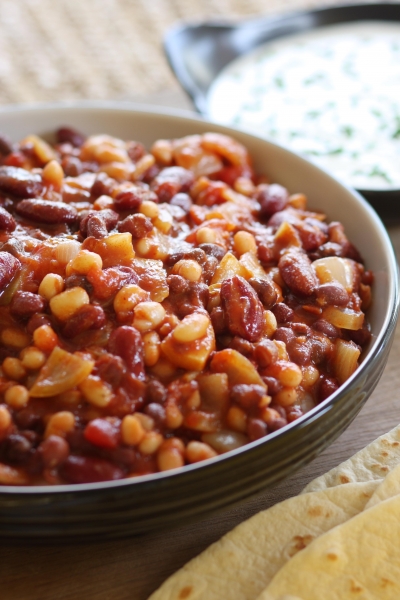 Using one frying pan, the recipe combines onion, garlic cloves, cumin, coriander, chilli powder, tomato puree, peppers, canned cherry tomatoes, red wine, vegetable stock and canned kidney and black beans – and happily, leftovers taste just as good if not better the next day. A versatile choice, the chilli can be served with rice and a spoon of sour cream, a sprinkle of coriander or cheese, over a jacket potato or with a slice of crusty bread – easy!
Cowboy Stew is a family favourite and can also be made in the morning for a quick and easy reheat in the evening. Using onion, celery, peppers, beef stock, and a range of canned foods including potatoes, beef in gravy, Aduki beans, tomatoes and sweetcorn, it's a simmering slow cook stew that feels rich and warming at the end of the day. Great served with crusty bread – and a glass of red wine for the adults – this is a hearty, high protein dish perfect for filling hungry campers.
Retro recipe lovers will appreciate this next recommendation for Corned Beef Hash. Simply fry sliced onion and cubed canned potatoes until golden before folding in canned corned beef and Worcester sauce. It's that easy! The quickest of protein packed lunches, it can be served with crusty bread, or if you want to take a little more time to prepare green beans or salad as a side dish, it makes an easy supper too.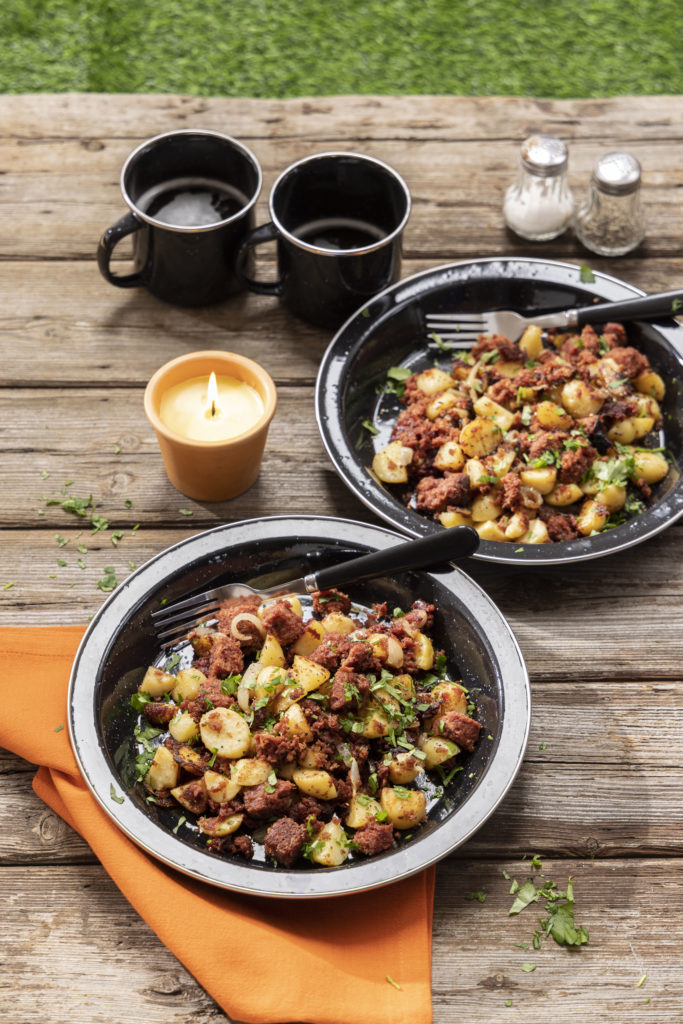 Speaking of sides, we can't recommend easy recipes without mentioning these Herby Potato Cakes – a favourite for all who've tried them. Using two cans of potatoes, simply mash with black pepper, butter, parsley, flour, and cumin before dividing into 14 cakes and frying in oil. If you fancy a dip, the recipe also details a quick salsa made from canned cherry tomatoes, red onion, lime and coriander.
Sweet treat
As far as desserts go when camping and caravanning, convenience usually wins in the form of pre-prepared cakes or biscuits. But for anyone who fancies a hot sweet – or a nostalgic backpacker/gap year pud – why not give these Cinnamon Pineapple Fritters a try?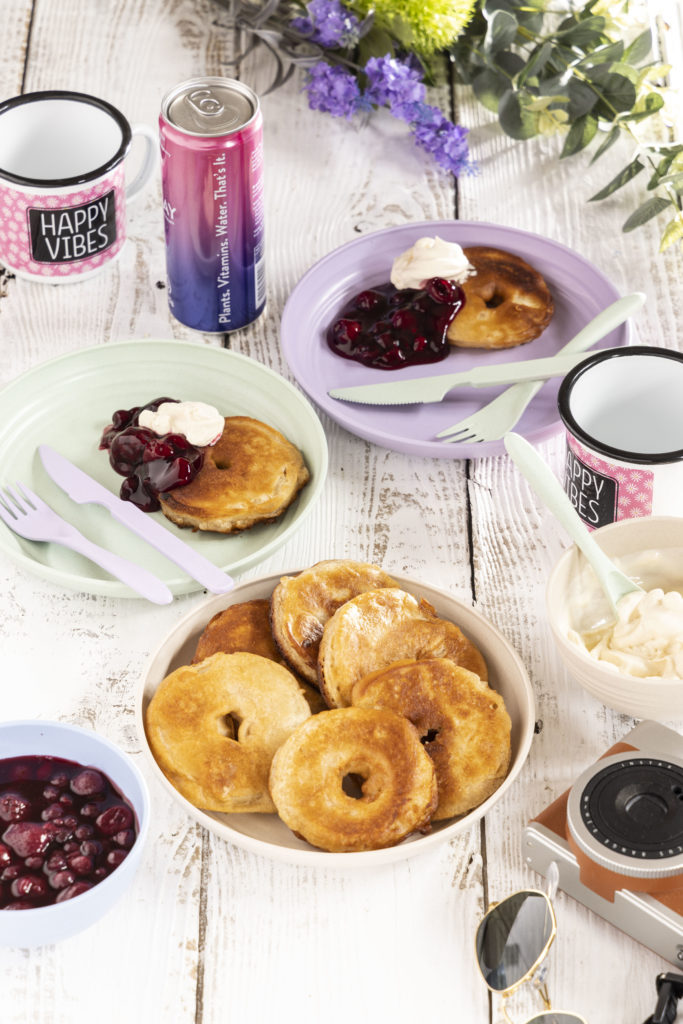 Make up a batter using baking powder, cinnamon, caster sugar, self-raising flour, eggs, and Greek yoghurt and coat the drained, canned pineapple rings in it one at a time. Fry the rings in vegetable oil in batches of four until golden brown and evenly cooked on both sides. Sprinkle with extra sugar and serve with canned cream and mixed fruit – delicious.
Happy Hour
Keeping drinks chilled can be a challenge on camping and caravanning trips, but did you know that metal beverage cans chill faster than drinks in other packaging types?
Ideal for loading into an ice bucket or fitting into a compact cool box or fridge, canned drinks are convenient, light, unbreakable, easy to transport and boast a unique feature of product freshness thanks to their total protection against light, gas and oxygen. That distinctive, fresh sound of the can opening is the sound of summer!
Manufacturers have really jumped on board with the benefits of metal for drinks packaging, and alongside the traditional cans of fizzy soft drinks and beer, there are now countless canned offerings for wine, cocktails, fruit juices and water too.
Handy for serving drinks at picnics, parties, barbeques, sporting events, camping and caravanning, cans are great for groups as single serves won't go to waste or go flat like a large pitcher of drink.
Even better is that canned drinks are environmentally guilty-free as around 75% of all aluminium ever produced in the world is still in use today. The current recycling rate for cans in the UK stands at an impressive 82% (2020) and in a circular model, cans can be recycled and back on the shelves in just 60 days.
Happy Camping!