The festive season is in full swing, so we've pulled together our favourite festive canned food recipes. We've got everything you need to create a full party menu, Christmassy snacks that will have Santa licking his lips and dishes perfect for the main event.
And the brilliant part – canned foods take out all the hard work for you! Pre-prepared and 'cooked' in the tin, these ingredients are ready and waiting whenever you need them and many you'll already have in the cupboard.
Don't forget, once you're finished with your tinned ingredients be sure to give the cans a quick rinse in leftover washing up bowl water, and then pop them in your recycling bin.
Festive bites
This recipe, for Billy and Jack's roasted sweetcorn hummus, has been such a huge hit with the team at CFUK and our followers over the last few years, that we can't avoid recommending it. Perfect for part of a sharing platter, a dip for crudites or even as a back up for unexpected drop-ins, this vegan side dish uses canned chickpeas and canned sweetcorn alongside plenty of garlic, tahini, zaatar and coconut flakes for a smooth and creamy finish. Our top tip? Make double – you won't believe how quickly it disappears.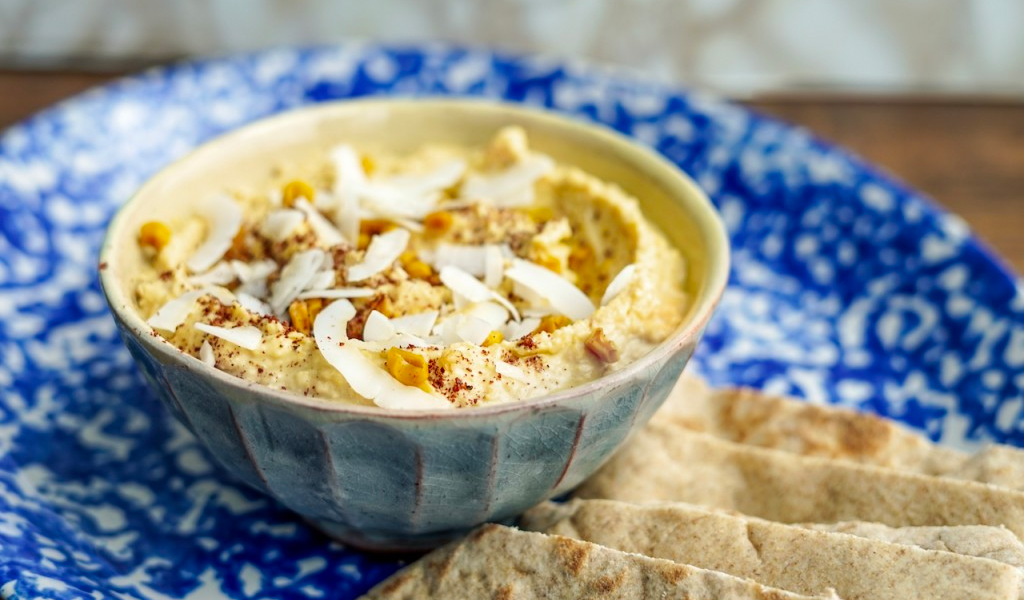 If you're looking for a handy finger food recipe, these Salmon Puff Pastry Tarts feature the traditional combination of (canned) salmon with cream cheese, with the addition of canned green beans and baked on individual puff pastry pieces until golden. These little tarts can be enjoyed warm from the oven or baked and cooled which means you can even make them the day before you're entertaining.
Main course magic
We've chosen two of our most popular roast recipes from Billy and Jack for any of those who are looking for an alternative to the traditional turkey dinner this year.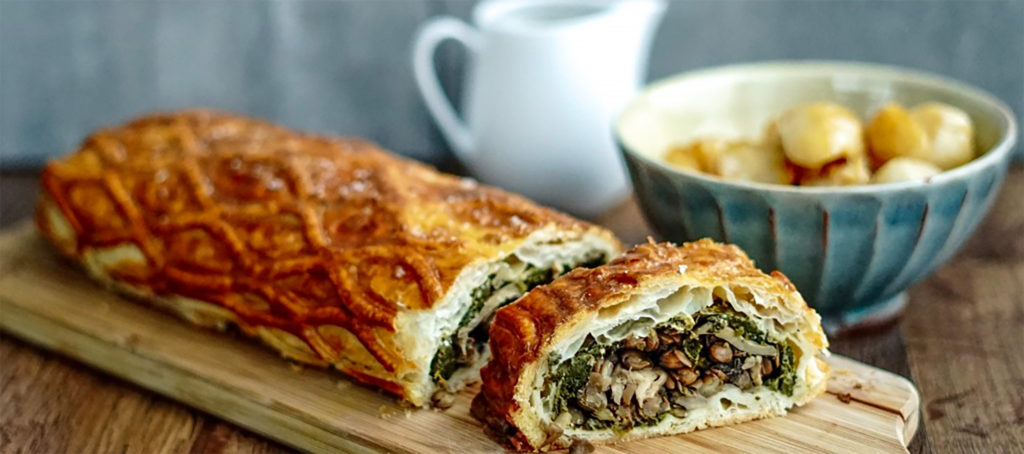 For the growing number of vegan and vegetarian diners, Billy and Jack's Mushroom, lentil and spinach Wellington with caramelised onion gravy and roast potatoes is created using four canned ingredients: mushrooms, spinach, onions and green lentils, alongside preprepared puff pastry. This recipe makes a stunning centrepiece dish with ease, and we recommend it serving alongside a pile of canned potatoes roasted in rapeseed or sunflower oil, and a tray of roasted winter veggies. Any leftover Wellington is easily reheated in the oven and can also be served with salad. Delicious!
And if you fancy mixing things up with roast Lamb instead of poultry, Billy & Jack's Roast Lamb stuffed with olives, hummus and roast potatoes offers a totally different set of flavours, but combines to make a hearty, warming roast which sits very well with a good bottle of red wine. Using canned anchovies, olives, chickpeas, broad beans and even potatoes, if you like, this recipe makes a taste of the Mediterranean an affordable option this Christmas.
Sweet treats
Is it even Christmas without the promise of a Retro Trifle on Boxing Day? This British classic enjoys peak popularity over the festive period, and canned fruit is the perfect option for this much-loved pudding. We've used canned mandarins and orange jelly in this recipe, but you could also substitute with canned fruit cocktail and raspberry jelly if you fancy a change. Canned peaches and pears also work well in trifle, but remember to skip canned pineapple in this dish, as it prevents the jelly from setting. Canned custard and cream crowns this sweet treat, and as always, booze optional depending on your diners.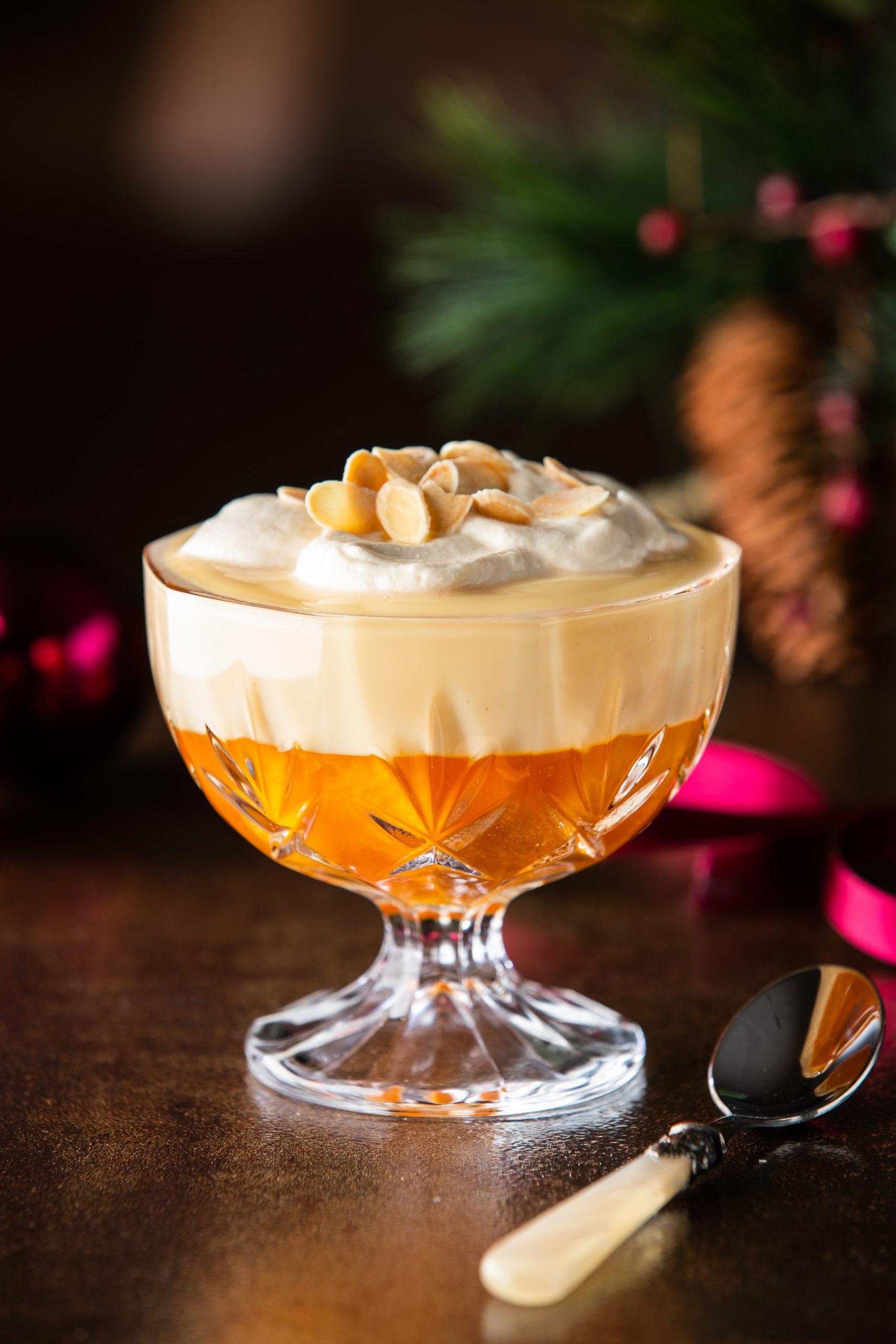 If you're after a Bake Off style showstopper, this Meringue wreath with Christmas spiced apricots looks the part, whilst being deceptively easy. We've even created this handy video to walk you through the steps! Serving 6-8 people, this vegan recipe skips eggs and makes use of canned coconut milk and apricots, alongside the Christmassy flavours of mixed spice, cinnamon and vanilla. A tip from the chef: refrigerate the coconut milk upside down, so that the liquid is on the top when you open it.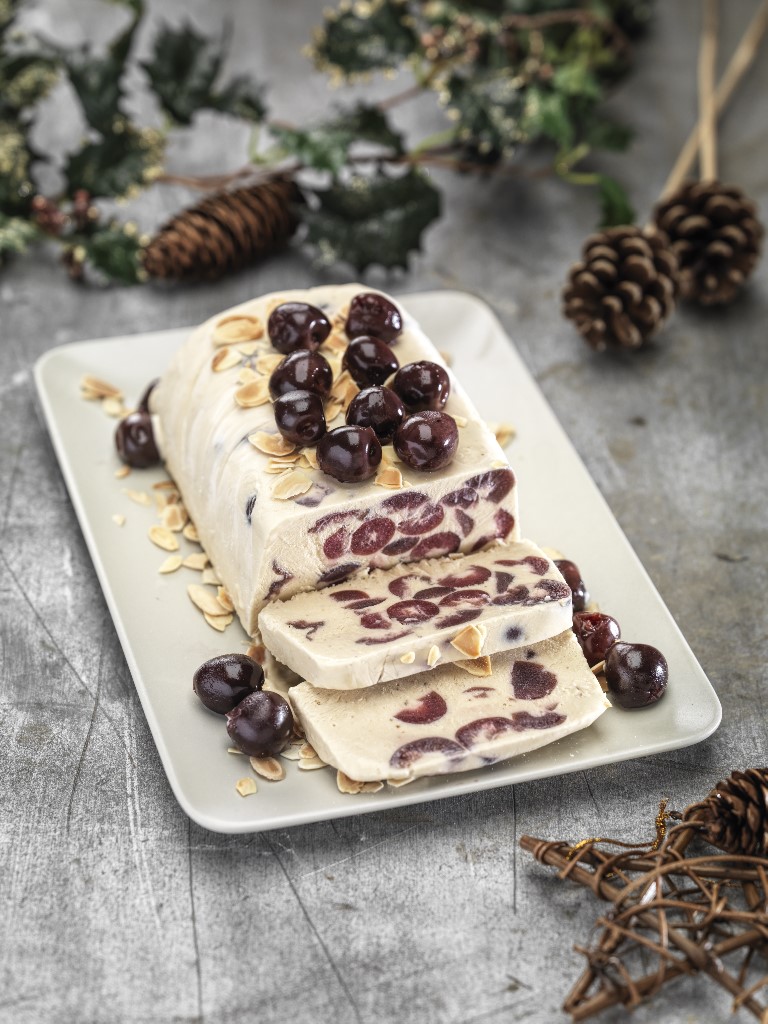 Finally, we love the black forest vibes we get from this Spiced Cherry Semifreddo – all those beautiful dark cherry flavours, without being as heavy as some of the more traditional gateaux desserts. Including canned cherries, custard, and cream, this is a dessert you can make entirely from store cupboard ingredients, so why not line everything up in your pantry for the next time you need a pud? This is another pudding recipe for which we have a video guide – and it serves 10 portions.
Feast on leftovers
For lots of people, Christmas leftovers are one of the highlights of the holiday season. If you do go for a turkey and have masses of meat leftover, check out our recommendations for Turkey & Stuffing Pie and  Leftover Turkey Hotpot.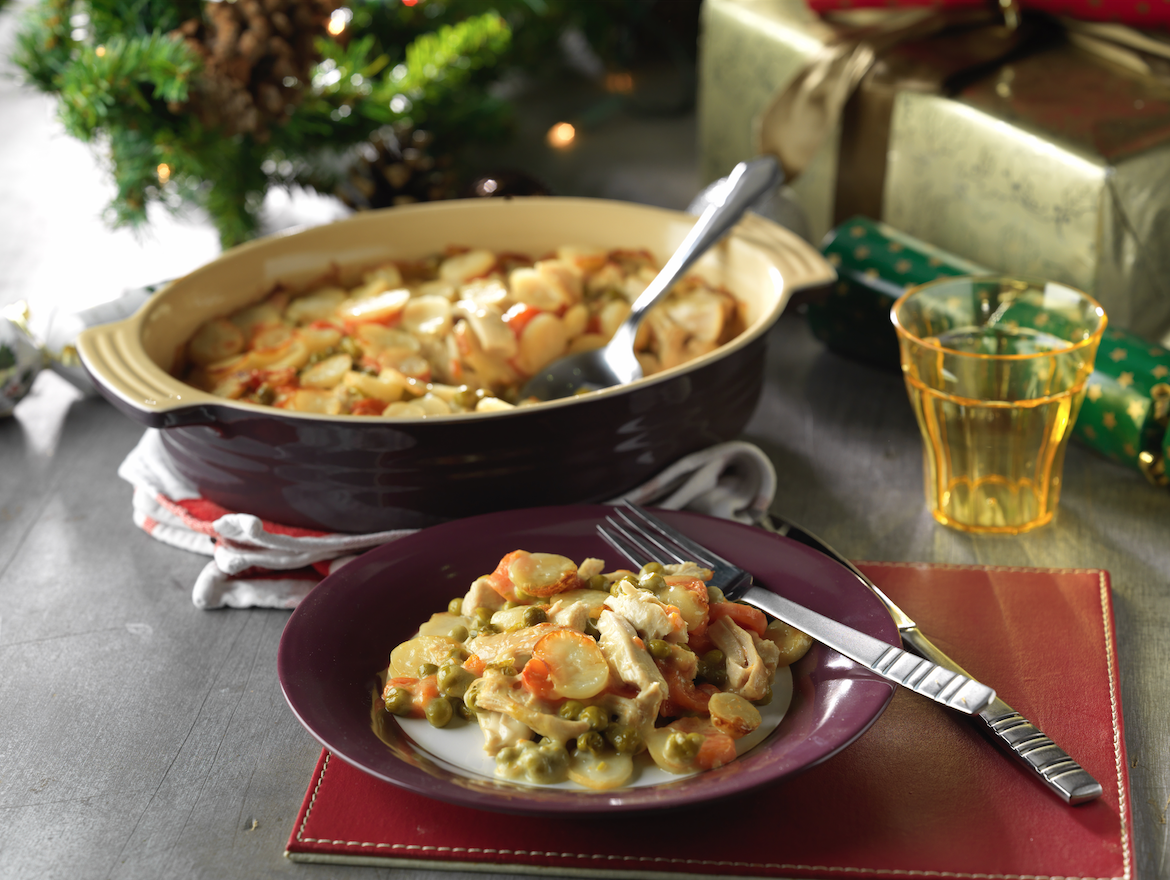 Turkey & Stuffing pie is sure to be a winner with all the family and remember, if you haven't got quite enough turkey to fill the pie dish try adding canned ham or additional vegetables – leeks and broccoli also work well. Serve with more roasted potatoes, mash, or chips for the ultimate comfort meal for the 'Twixmas period.
And if you don't fancy a pastry-based pie, why not try a hotpot instead? This recipe is fantastic for using any leftover Christmas turkey, vegetables, pigs in blankets, stuffing… whatever is left over from a roast! Like the pie recipe above it can also be bulked out with canned ham or other canned vegetables, including green beans, carrots, or potatoes.
Merry Christmas from the team at Canned Food UK!