Course: Main - Dish: Meat - Serves: 4
A twist on the classic Sunday dinner, our recipe makes the most of big punchy flavours to make a roast with a difference. Top tip – the little roast potatoes are so moreish you may need to make double!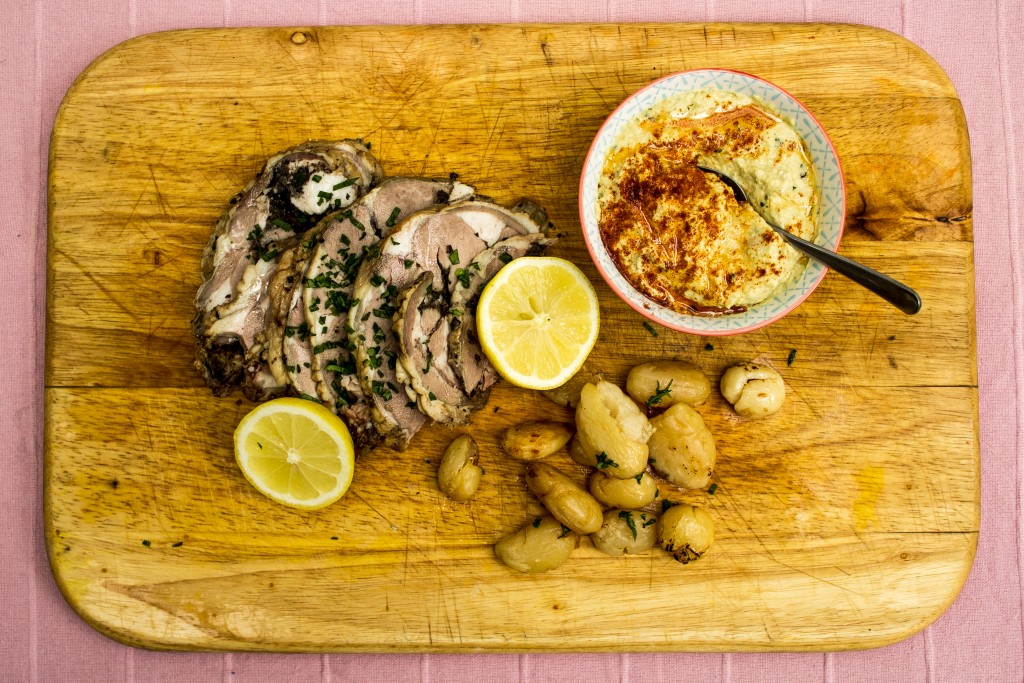 Method:
Preheat the oven to 180°C fan.
In a food processor blitz the olives, anchovy fillets and the oil from the anchovies, 2 cloves of garlic and the juice of half a lemon. Add olive oil and blend until you have a thick paste.
Unroll the lamb fat-side down, and season lightly. Spoon the olive tapenade evenly across the lamb then re-roll and tie to secure. Place the lamb joint in a roasting tin and roast for 1 hour for a perfect pink joint, basting occasionally. Rest for 10-15 minutes before carving.
While the lamb is cooking, make the hummus. Drain the chickpeas (save half a can for the topping) and broad beans and add to the food processor with the tahini, garlic cloves, salt and the juice of one lemon. Blitz until smooth, adding 4 tbsp olive oil to loosen. If it is too thick, add some cold water to get the desired consistency. Then add a handful of chopped mint and quickly blend to combine.
Top with the reserved chickpeas, a drizzle of oil, chopped mint and some smoked paprika.
For the potatoes, drain the cans and carefully press each potato so that it is slightly squashed. Heat a roasting tray with the rapeseed oil in the oven, add the potatoes and roast until crispy, around 35 minutes at 180°C fan.
Once crispy, top with finely chopped mint, a dusting of smoked paprika and a squeeze of lemon.