According to a poll by finder.com, the number of Brits choosing or vegan or vegetarian meals jumped by 40% in 2020. And thanks to the extra time available during lockdown, many of us have widened our culinary tastes and spent more time in the kitchen honing cooking skills and trying vegan/vegetarian recipes.
Canned jackfruit and banana blossom are some of the vegan ingredients that have experienced a big jump in popularity during this time. "We've particularly seen an increase in our sales of canned young jackfruit," said Stuart Buchanan, director of Essence of Thailand to Specialty Food Magazine. "[And] we've seen a significant rise in the purchase of banana blossom – this is being used for recipes such as vegan fish."
Canned banana blossom
Our recipes for Banana blossom 'fish' tacos with pineapple salsa and the Banana blossom grain bowl are two wonderful ways to try out the possible flavours and textures of this ingredient. Banana blossom, for those who don't know, is the large purple coloured flower that grows at the end of bunches of bananas. It does not taste like banana but has a milder taste and meatier texture – which makes it ideal for absorbing flavours and mimicking meat/fish products. It's probably the most popular when looking to replace fish, as the flaky texture is so hard to achieve with other vegetables or plant-based products.
For our vegan/vegetarian 'fish' tacos, we'd recommend choosing a canned banana blossom in brine, for that fish-like finish. Banana blossom in jars often make use of vinegar, which isn't suitable for recipes imitating fish. The banana blossom will take on the Cajun spice flavour in the taco recipe, perfect for the pineapple salsa to cut across with a refreshing sweetness. This is such a simple meal (which covers you for 3 of your 5-a-day); it's a great starting point for anyone looking to experiment with new ingredients, or unsure of how to prepare a really delicious and interesting vegan/vegetarian meal.
Our Banana blossom grain bowl is more of a traditional use for the canned ingredient, in a southeast Asian inspired recipe full of strong flavours such as ginger, sesame, chilli and tamari (the Japanese version of soy sauce), all of which are taken on by the banana blossom flesh. Featuring cabbage, edamame beans and pickled ginger to serve, this is a nutritious superfood option including 2 of your 5-a-day, that also really packs a punch on taste.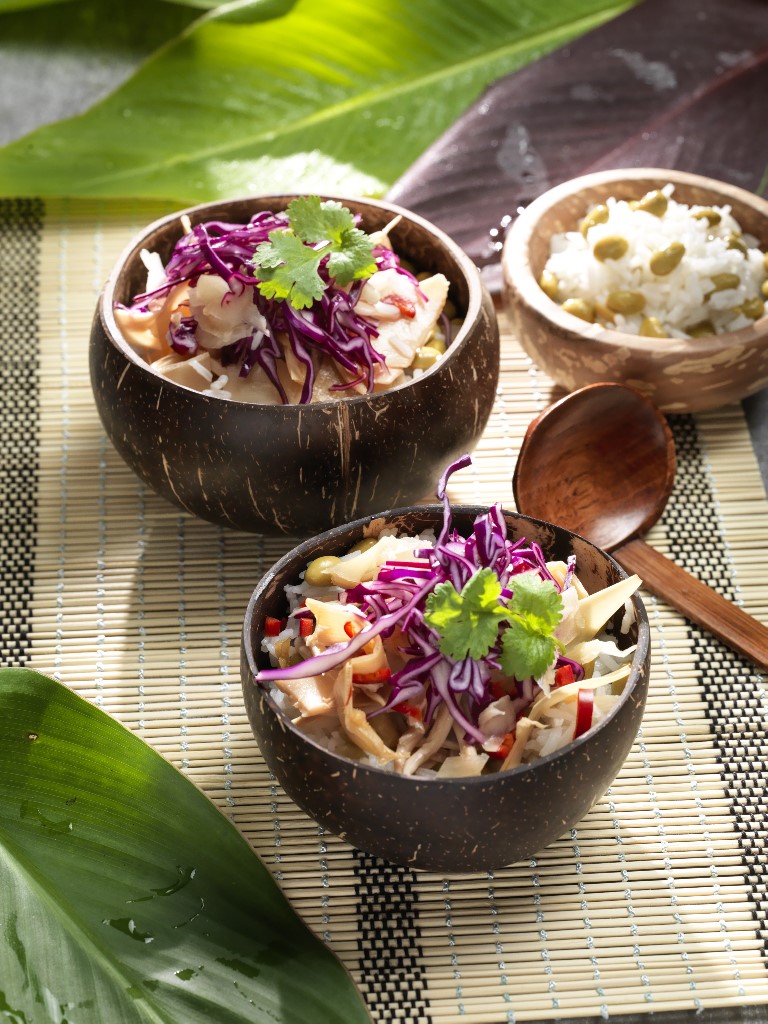 Canned jackfruit
Canned jackfruit is another specialty ingredient enjoying a boost in sales and is now commonly found in most supermarkets. Our new recipe for Jackfruit Jambalaya requires just one 400g can of the vegetable which can be turned into a smoky, Cajun spiced rice dish to serve four people and supplies 3 of your 5-a-day. Jambalaya is a traditional Creole rice dish originating in West African, French, and Spanish communities and is a 'mixed up' combination of meat (or meat alternatives in this case) and vegetables mixed with rice. Our vegan/vegetarian recipe features canned tomatoes, garlic, peppers and paprika, giving the canned jackfruit a rich and warming flavour, which is just the perfect dish heading into autumn.
Alternatively, if you're cooking for a crowd, an informal gathering or even preparing a movie or sports snack, canned jackfruit can also be a great ingredient for nachos. This recipe for Jackfruit Nachos (3 of your 5-a-day) can really compete for comfort food taste with the traditional layered dish. A warm combination of baked jackfruit with canned black beans, canned tomatoes, chipotle, and onion, on crunchy tortilla chips and a side of smashed avocado guac, it really is a taste sensation.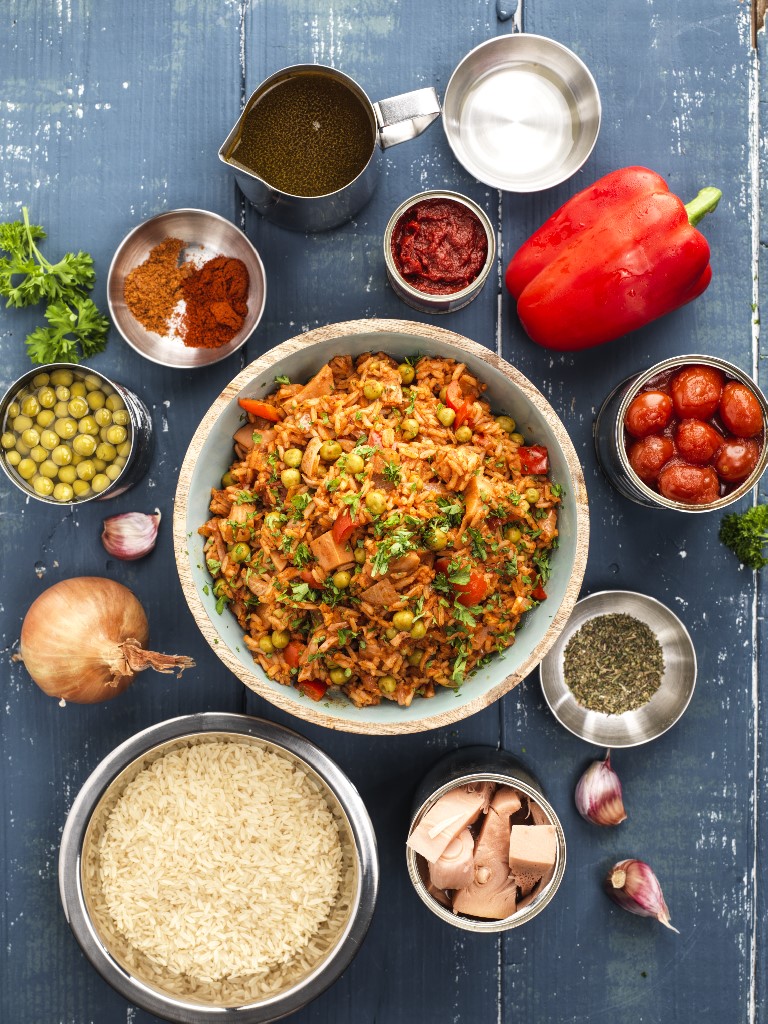 Dairy free dessert
Finally, we really are firm believers that vegan/vegetarian desserts can be just as creamy, sweet, and moreish as those that include dairy products, so had to shout out to this Spiced Cherry Semifreddo which serves a whopping 10 portions. Whilst it's listed as a vegetarian recipe here, it can be prepared as vegan by substituting the canned cream for canned coconut cream, and the canned custard with a vegan dairy-alternative custard. Lightly spiced, the cherry and vanilla flavours work beautifully with the creamy texture and is an indulgent treat whatever the occasion.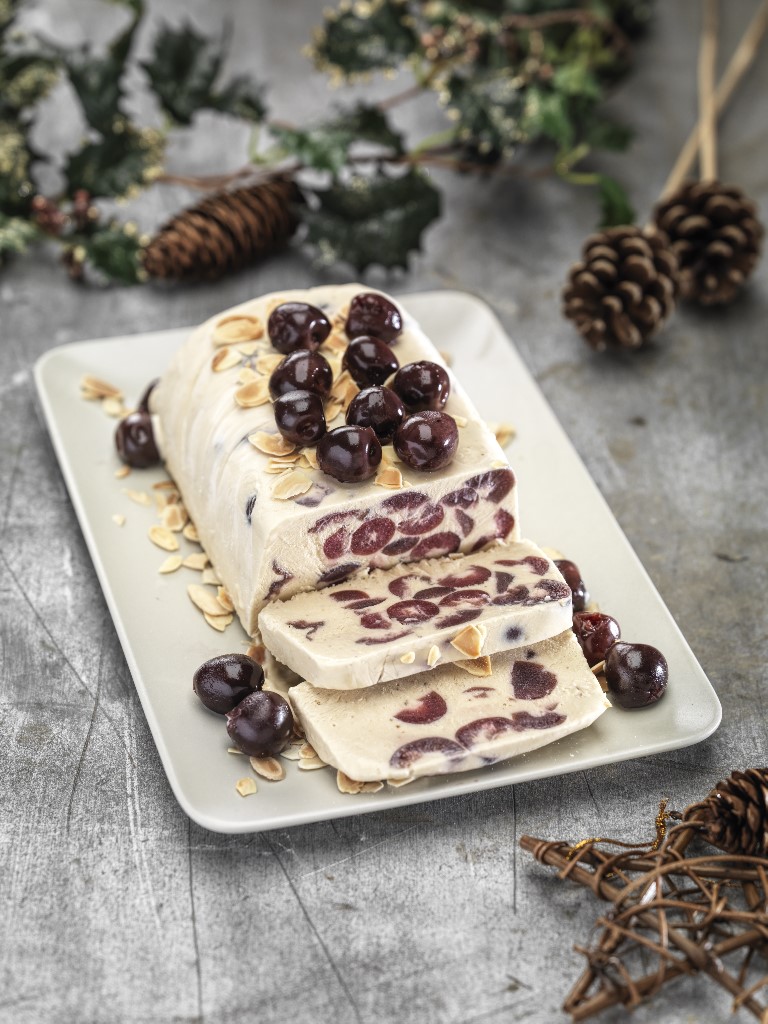 Did you know…
Canned banana blossoms are an excellent source of vitamins A, C, and E alongside magnesium and potassium, whilst also being rich in fibre.
Canned jackfruit is an excellent source of fibre, potassium and antioxidants, helping improved both heart and gut health.