As autumn rolls into winter, home cooks across the nation are turning their thoughts to comfort food – hearty nourishing dishes that warm us from the inside out. To celebrate the joys of autumn cooking, this September Canned Food UK launched a new collaboration with Instagram influencer and food blogger, Simply Food by Mandy. Here we present four new recipes, guaranteed to please everyone, and keep you warm and happy as the temperature drops.
Mandy, who shares her simple, no-nonsense yet delicious family recipes and cooking hacks with over 85k followers is a big fan of canned ingredients, not only because it has a long shelf life which helps cut down food waste, but because it's always there when you need it. Just like Canned Food UK, Mandy is focused on delivering variety and flavour in her recipes, and her combination of cooking for wellness and enjoyment is finding huge popularity online.
One tray wonder
The first recipe in the autumn collaboration is a Halloumi, Vegetable & Chickpea Traybake with Salsa Verde. A colourful medley of red onion, butternut squash, red peppers, aubergine, canned chickpeas and sliced halloumi, this roasted – slightly caramelized – bake is one of the easiest recipes to try. Ideal for a weeknight supper when pressed for time, and versatile enough to take on rough quantities (or an additional vegetable if you have something that needs to be used), it's a dish that can easily become a regular fix over winter months. Additionally, it boasts a whopping 33g protein per serving which makes it a prime energy booster.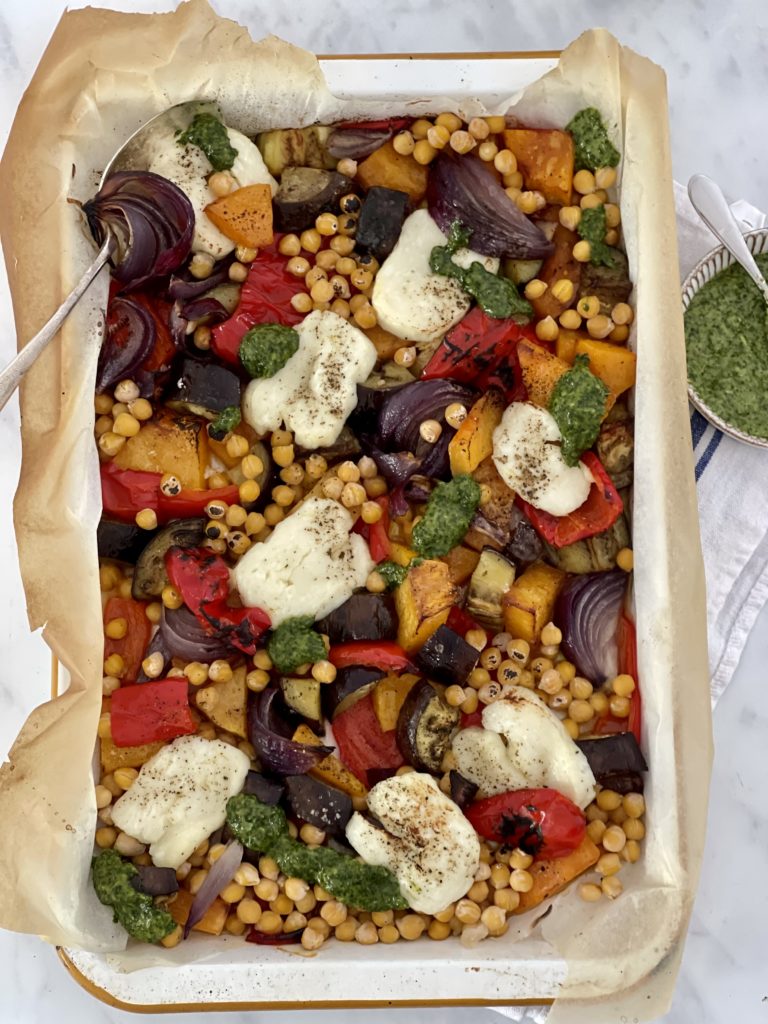 "This lovely meal is super simple to make and can actually be turned into a vegan option by using tofu instead of halloumi, and leaving out the anchovies," says Mandy. "The salsa verde cuts across the mellow taste of the roasted veg, giving a depth of flavour and seasoning which make this dish a joy to eat after a long or cold day."
Nostalgia in a bowl
For many, the onset of autumn means the arrival of casserole on the menu. This Sausage and Bean Casserole feels like a nostalgic nod to childhood suppers, and the ultimate in comfort food. It is really so simple to prepare, with only 5 ingredients; but it really delivers on both flavour and nutrition for a crowd-pleasing family meal.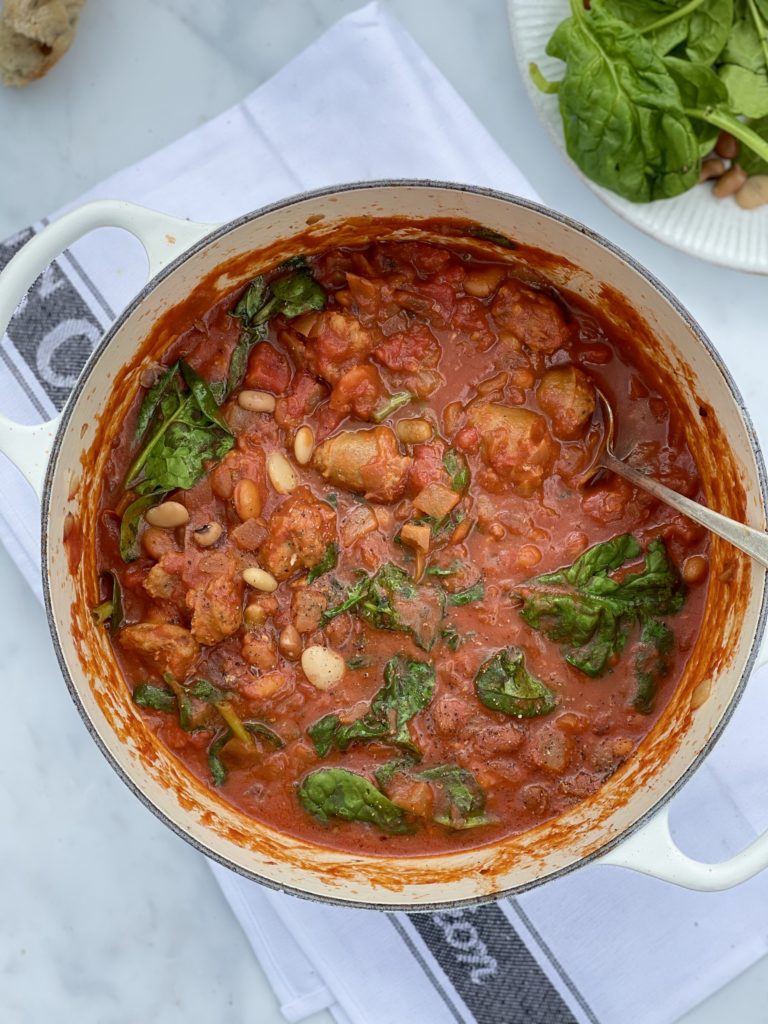 Using onions, garlic, sausages, canned mixed beans, and canned chopped tomatoes, we recommend serving alongside a crusty loaf with lots of butter, or even a jacket potato cooked on the fire as a bonfire night special. And to increase your 5 a day, you could even add canned spinach!
Nationwide favourite
If there's one meal that has kept its top spot as one of the UK's favourite meals, it has to be Spaghetti Bolognese. And for this special collection of recipe, Mandy has created a delicious version of this dish with a slight twist – this is Beef and Lentil Spaghetti Bolognese. Using canned lentils adds both fibre and protein to this dish making it an energy boosting meal for all members of the family.
Making use of canned tomatoes, lentils and mushrooms saves time on preparation too, and this recipe does most of the cooking in a slow simmer – low effort, with maximum results. "I try to design my recipes so that they are good choices for family cooking. Tinned food is a staple in my kitchen cupboard – I want more people to appreciate the variety of canned produce and how versatile it can be in home cooking," says Mandy, "especially when it makes life so much easier!"
"Not only are canned foods super convenient, but the produce is cooked in the can like a pressure cooker which means nutrients are locked in. Most of the time this happens without the need of additives or preservatives, which means that there's really very little difference in nutritional quality when you reach for a can of chopped tomatoes for a pasta sauce instead of a pack of fresh tomatoes."
More to come
Look out for the final recipe from the Simply Food by Mandy & Canned Food UK collaboration, coming soon… Tomato Tuna & Spinach Risotto.
Each recipe will be available on the Canned Food UK website (www.cannedfood.co.uk) as part of 'Recipe of the Month'. Keep coming back for more ideas!