"The larder is worryingly bare when you've run out of tinned tomatoes," observed food writer Joanna Blythman for The Guardian, "They are the cook's comfort blanket, the progenitor of any number of soups, sauces, stews and braises."
As a store cupboard essential, (and second only to baked beans in sales), tomatoes are one of the most popular canned ingredients amongst UK shoppers. All canned tomatoes – whether whole, chopped, pureed or in a paste, begin the same way – as freshly picked plum tomatoes which are quickly peeled, cooked, and canned soon after harvest. This speedy journey from field to can is how they retain colour and flavour – and nutritional value too!
Canned tomatoes appear in so many of our recipes, but scroll down to check out five of our favourites below:  
Festive flavours
Amongst the Christmas parties and big dinners this winter season, we love this recipe for Turkey, Bacon & Lentil Soup – perfect for a light lunch with friends, or a late night supper after a busy weekday. This is a really healthy way to make the most of leftover turkey (you could also use chicken if that's what you have), which is warming and delicious served with crusty bread and butter – proper comfort food!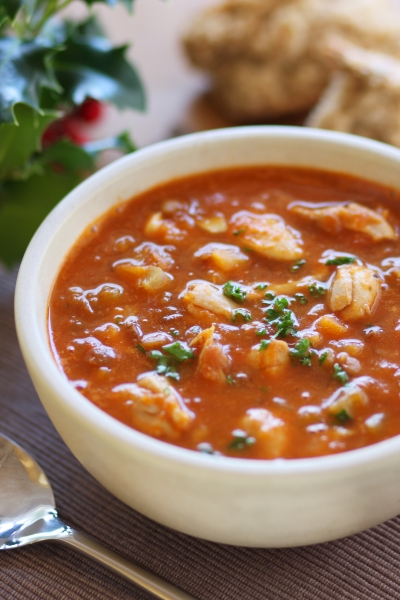 Using canned lentils means that you don't need to soak them overnight – which makes for speedy preparation, less than 20 mins all in. Combining the canned chopped tomatoes with canned green lentils, turkey, onion, bacon, garlic, carrot and celery gives you a punchy protein soup (almost 22g per serving) which not only tastes great but also freezes well if you want to prepare it ahead of time.
Worldly Winter Warmers
Borrowing flavours from Morocco, canned tomatoes make a brilliant base for a Quick Lamb Tagine. Usinglamb fillet, canned chopped tomatoes, canned prunes, Ras el Hanout, lemon and mint, this recipe certainly lives up to its name, as it's both quick and easy. Taking just over half an hour to prepare four servings, this sweet and spiced lamb feels like a real indulgence in the depths of winter, and like the soup recipe, it can also be frozen for up to two months – just make sure you freeze it before adding the prunes, as these are best opened and used on the same day.
And taking a taste of India for the next recipe, canned tomatoes also play a central role in the sauce for a hearty Steak, Mango & Black Bean Curry from food blogger Jack Monroe. This recipe takes minutes to throw together but thanks to the tenderness of the canned stewed steak, it tastes like it's been slow cooked for hours. This curry contains four of your five a day, if served between four people and whilst the fruit may seem an odd addition, it works perfectly to temper the spices – you can use canned mango, canned peaches, or canned mandarins, depending on what you have in and your personal tastes. For a vegetarian or vegan version, you can even replace the steak with canned jackfruit!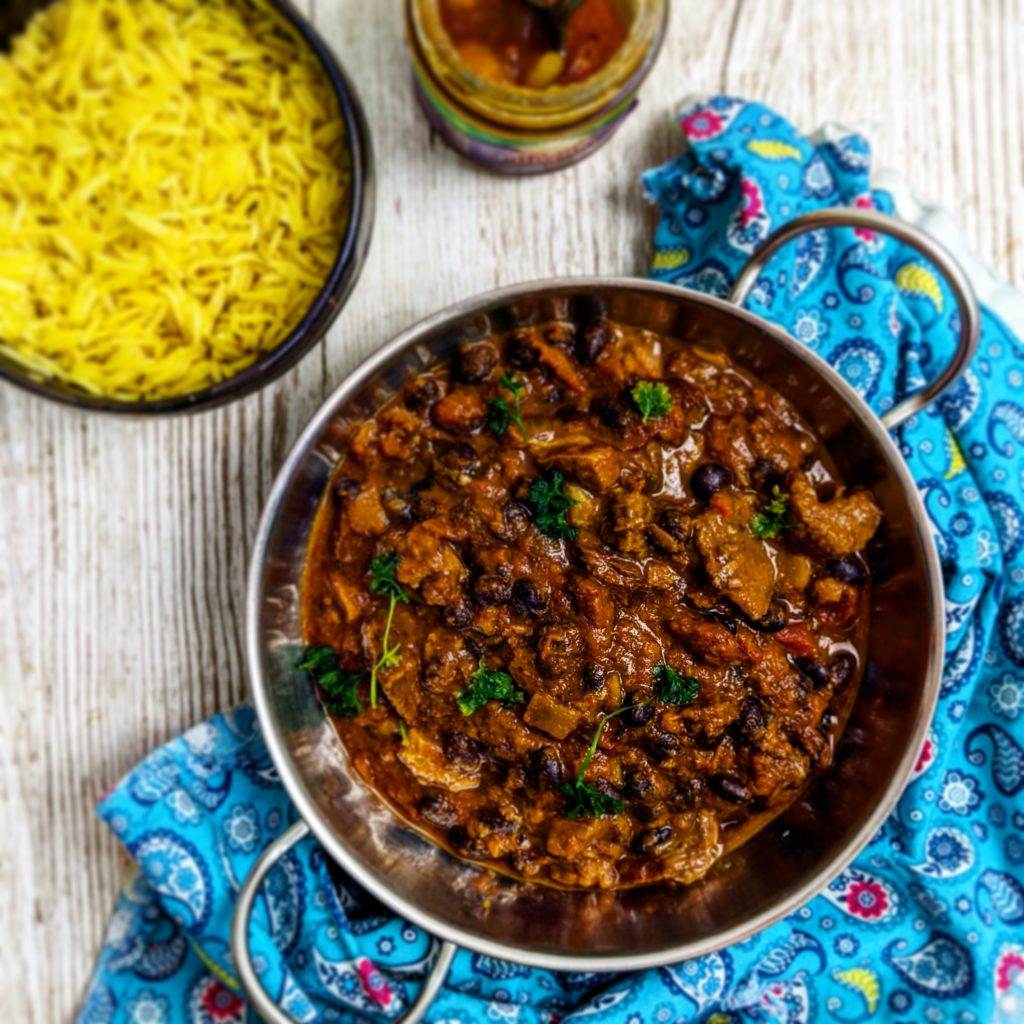 Using five canned ingredients (steak, black beans, fruit, coconut milk and tomatoes) and covering three of your 5-a-day, this is a fantastic store cupboard meal which is so much more than beans on toast or pre-made soup. With these five cans in the cupboard, you can be ready for guests at the drop of a hat!
Inspired by Italy
Taken from Canned by Theo A. Michaels, published by Ryland Peters & Small, this Spaghetti Puttanesca Tray Bake is a winner for families and groups with big appetites. "The concept behind this tray-bake Spaghetti Puttanesca recipe was born out of the live kids cook-along for families I started online in 2020, and it proved to be one of our most popular dishes with viewers," said the chef. "It's the ultimate in convenience cooking as everything just goes into the sheet pan (yes, even the dried spaghetti!) and 30 minutes later dinner is served!"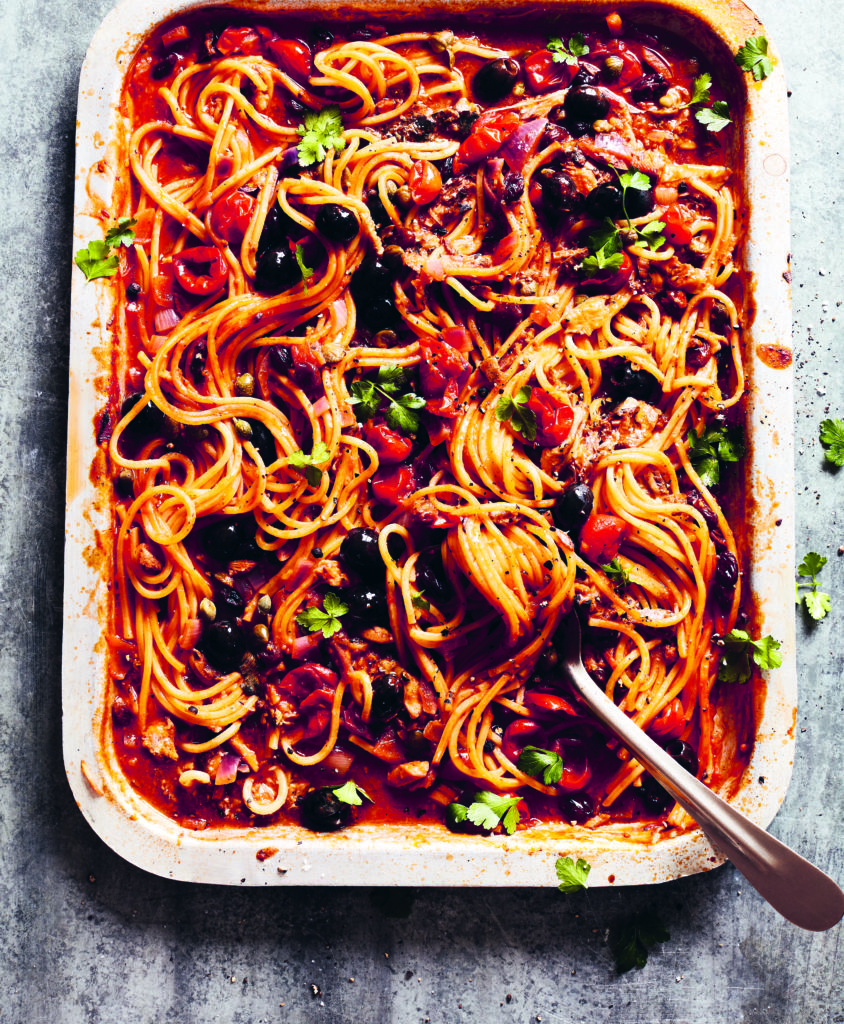 Using canned tomatoes, canned olives and canned pilchards alongside spaghetti, onion, garlic, chilli, raisins, capers, and chicken stock, this is an affordable and simple meal, ideal for filling up hungry tummies – just make several trays for larger groups and serve with crusty bread and olive oil on the side. Coming in at 535 calories per serving with 22g protein, this recipe is a nutritional winner, and might quickly become a regular on your meal plans too.
Finally, we'll share one of our newest recipes which uses canned tomatoes, which is part of our 2021 collaboration with Simply Food by Mandy. This Tomato, Tuna & Spinach Risotto is a delicious union of canned tuna, canned tomatoes, garlic, butter, stock, rice and fresh spinach. It's healthy but also tastes incredible and it's so simple to put together.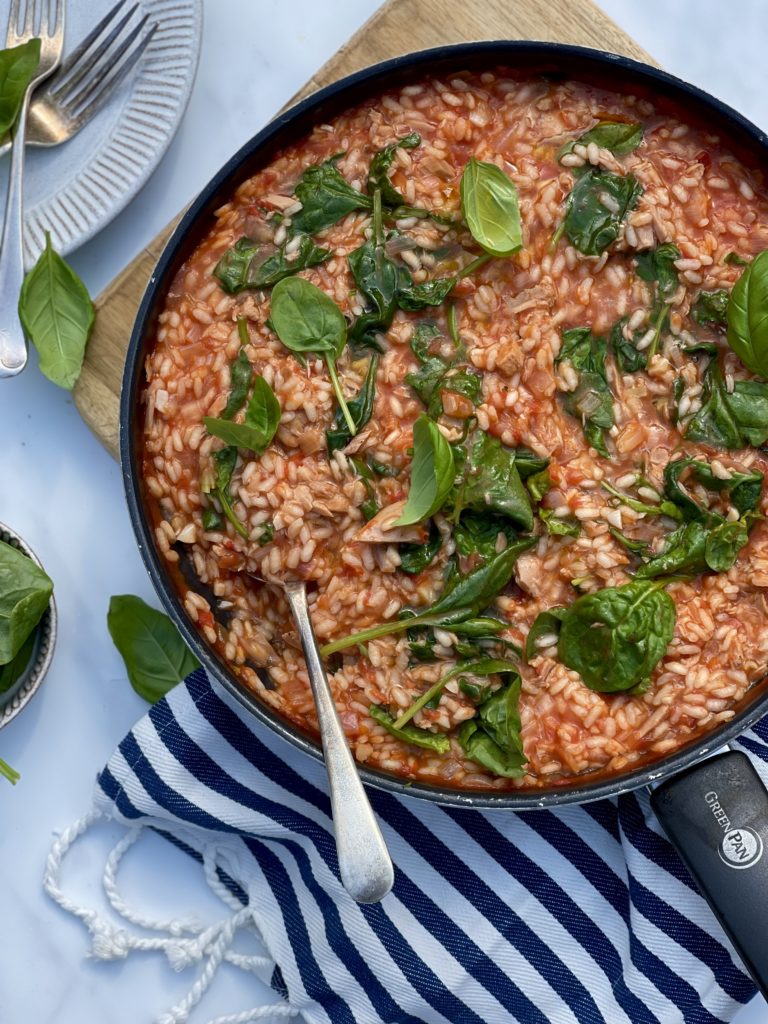 "I bet all of you have the majority of these ingredients in your store cupboard," said Mandy about this dish. "I think this recipe really shows that you don't have to spend a lot or dash off to the shops to buy something new to eat well. Canned tuna and tomatoes are such versatile ingredients to have in your store cupboard. I don't think I am ever without either of them. This recipe is simple to make and went down a storm with both of my boys. Delicious!"
Did you know…?
Tomatoes provide around 5% of an adult's daily potassium needs, helping reduce risk of stroke and heart disease. Heart health is also boosted by lycopene, the compound which gives tomatoes their red colour.
Tomatoes also contain carotenoids, which maintain eye and skin health, and vitamin K which is necessary for blood clotting and wound healing.