Course: Dessert - Dish: - Serves: 4
This month's guest recipe, Serradura, comes from Jess Friend at The Weekend Tourist who takes inspiration from a recent trip to Portugal and uses that store cupboard standby – a can of condensed milk.

"Serradura is a Portuguese dessert which I discovered on my recent trip Lisbon; it roughly translates to 'sawdust' in English, alluding to the look of the crushed biscuit layers. The traditional recipes use Marie Tea biscuits, but here I tried it with an amoretti twist, but you really could use any biscuit in the cupboard. It's a great dessert that can be prepped in just a few minutes and chilled before a dinner party."
You can follow Jess on Instagram, Facebook and Twitter.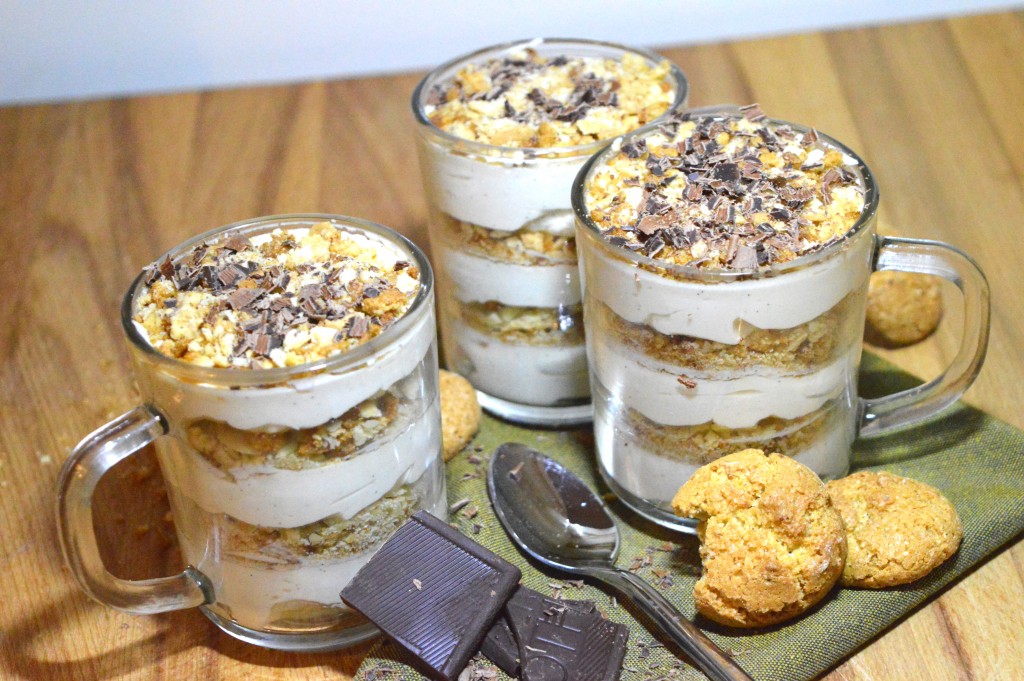 Method:
Whip the cream in a large bowl until it starts to thicken, then add the condensed milk and vanilla paste. Continue to whip until the cream forms soft peaks.
Spread the flaked almonds across a baking tray and bake in the oven at 180 degrees, for three to four minutes, until golden brown. Shake half way through to ensure even toasting. Once toasted, leave to cool, before grinding into small chunks.
Add the amoretti and rich tea biscuits to a large freezer bag and seal. Using rolling pin, crush the mixture, until it resembles a 'sawdust' consistency – a mixture of large and fine chunks.
Using four glass tumblers, start the layering process! Begin with a large dollop of the whipped cream and condensed milk, spreading the mixture to the corners. Follow with a layer of biscuit crumbs and almonds.
In my glass, I managed roughly three layers, ending with a sprinkle of amoretti biscuits on top. Grate dark chocolate over four servings.
Chill in the fridge for two to three hours, but if time, overnight.