Course: Main - Dish: Vegetarian - Serves: 4
This month's guest recipe comes from Ruth Cartwright, lifestyle blogger, designer and food technology teacher. This hearty vegetarian sausage and mustard bean bake is the perfect dinner option, and is also gluten free!
Visit Ruth's website here and you can follow Ruth on Twitter:www.twitter.com/craftcartwright, Facebook:www.facebook.com/craftwithcartwright and Instagram:www.instagram.com/craftcartwright.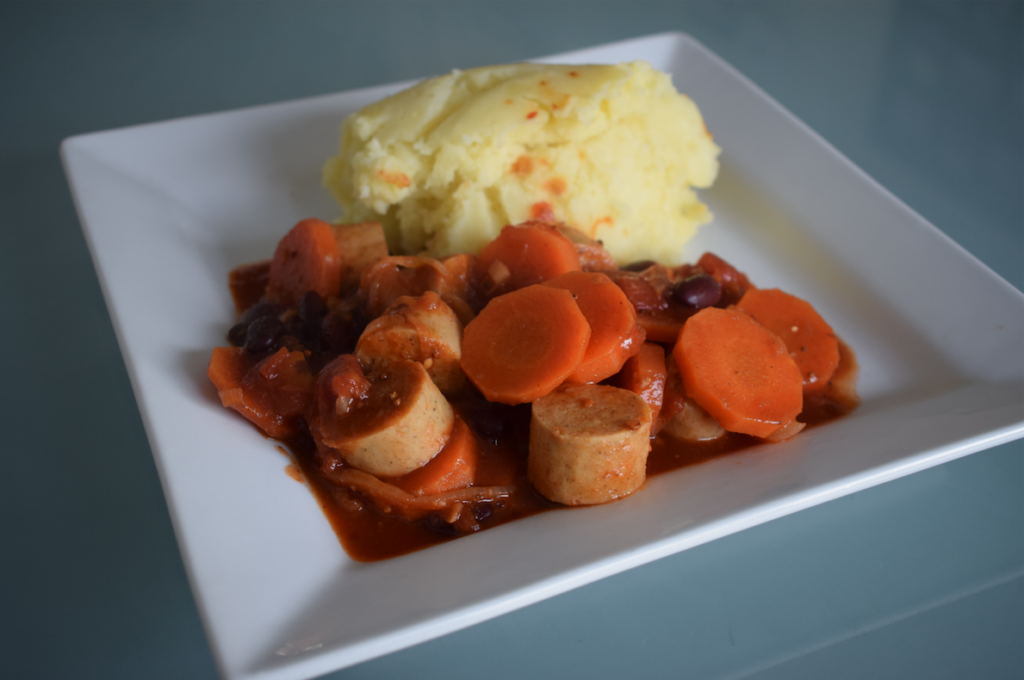 Method:
Preheat the oven to 180°c, gas mark 4.
In large heavy based saucepan, heat the oil and add the sliced onions.
Sauté for five minutes until starting to colour. Add the tsp of sugar and continue to cook for an extra minute.
Add the sliced carrots and sausages.
Cook for a further five minutes, ensuring the sausages don't stick to the bottom of the pan.
Add the tomatoes, chilli beans, tomato puree and mustard. Stir well.
Fill the chilli bean tin with warm (not hot) water and add to the pan. Stir.
Transfer to a casserole dish, place the lid on or cover with tin foil.
Cook in the oven for a further 20-30 minutes until the carrots are soft.
After 10 minutes, check the dish to see if it's dry, add extra water if needed.
Serve with buttery mash potato.
Cooks tip: This recipe can also be made using canned carrots, a useful store cupboard ingredient.