Course: Main - Dish: Meat - Serves: 4
Our guest recipe this month comes from Richard, behind foodie blog, Minister of Food and Drink.

Richard says, "this recipe has been adapted many times and has evolved somewhat over the years and should be enough for 4 portions (served with just boiled rice). You can easily adjust quantities to make more or less. I usually make several portions and freeze them."
You can follow Richard for more great recipes on Twitter and Facebook.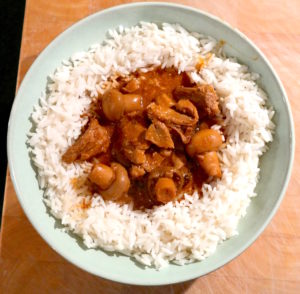 Method:
First, cut your pork fillet into slices around 1cm thick.
Heat the oil in a pan and fry the pork over a high heat until it starts to brown. If you add all of the pork to the pan, then it will probably release a bit of water. If you don't like this then you can fry it in batches, but I just don't have time for that.
Once the pork is brown enough for your liking, drain and add the mushrooms. Fry them until they are well cooked.
Then add the onion followed by the paprika, seasoning and flour and cook for a further minute or so. Don't worry if some of the flour starts to stick, it will soon blend in.
Now add the sherry and cook for a minute – it will start to pick up some of the flour, paprika, etc.
Add the chicken stock, tomato puree and creme fraiche and give everything a good stir around until it starts to bubble gently.
Cover the pan and put in the oven for around an hour at 170°C, taking it out to stir occasionally. When it's done, it will be nicely thickened and slightly dark in colour.
Serve with some simple boiled rice to enjoy all the flavour of your sauce.