Course: Main - Dish: Meat - Serves: 2
By Theo Michaels 
Sweet sharp mango chutney glaze over salty crispy spam, with Indian spiced mushy peas and caramelised pineapple slices – what's not to like! 
This recipe was created by Theo Michaels as part of our 'Eat Like a King' campaign in celebration of King Charles's coronation.  
Serves 2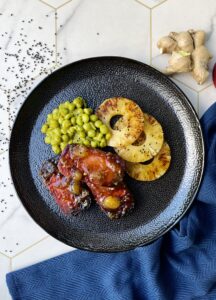 Method:
Pineapple Rings: remove the rings from the can (saving the juice), pat dry and brush with a little olive oil, season with pinch salt and the garam masala on both sides. Fry in a hot pan for a couple of minutes each side until charred then remove and keep warm.

Spam: grate the ginger into the mango chutney and stir in about 60ml (4tbsp) of the pineapple juice to loosen. Dust the spam slices in flour and brown in a hot pan with a little olive oil (about 2 minutes each side). Turn the heat down to medium, pour in the mango chutney and keep basting the spam slices until it reduces and thickens (this only takes a minute), once thick and glossy remove the spam onto a warm plate, pour over the glaze and cover with foil to keep warm.
Finally, in the same pan (no need to wash), add a knob of butter and stir in the curry powder, once the butter has melted add the marrowfat peas with some of its juice and top with the remaining pineapple juice; season with a pinch of salt and pepper. Simmer until the juice has reduced and thickened and then remove from the heat.
Serve the spam slices with a few rings of pineapple and a helping of the peas and enjoy!
If you like it extra spicy, you can add a little chilli powder or cayenne pepper to either the mango chutney or peas.