Course: Main - Dish: Vegetarian - Serves: 6
By Theo Michaels 
 A slight twist on the classic quiche with canned artichokes and earthy chorizo creating the perfect filling for our 'crowned' quiche – fit for a king! 
Serves 6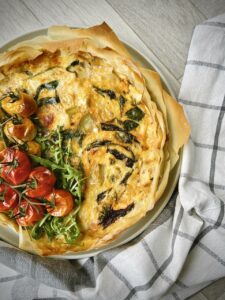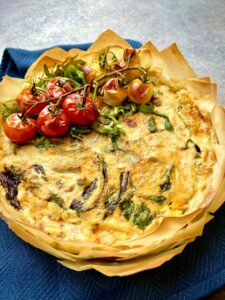 Method:
Pre-heated oven 180FAN/200c

 

23cm cake tin

 

Fry the onions and chorizo in a splash of olive oil for about five minutes until the onions are soft and the chorizo has released its oil and the pan is a vibrant red. After they have sweated down a little, add your artichokes to also sweat down and heat through. Then remove your pan from the heat and fold in a handful of baby salad leaves to wilt.

 

For the filling, which you can make while the ingredients in the pan are frying, lightly whisk the eggs, milk, grated cheese (save a little for the top) and seasoning and then pour in the cooked onions and chorizo mixture and reserve.

 

Generously brush the cake tin with melted butter and then lay a sheet of filo inside, just off centre so you have some 'peaks' around the edge. Turn the tin 90 degrees, wipe the pastry with a little butter then lay another sheet of filo on top, continue until you've used all the filo up (or have a nice even 'crown'). 

 

Pour the filling into the dish and bake in pre-heated oven for 25 minutes or until it just stops wobbling and leave to cool. I add a few strips of baby vine tomatoes on the baking tray when cooking the quiche to garnish with once it's cooled. Serve with salad and enjoy!

 

Tip: to help the 'peaks' remain in place, push the filo against the buttered edge of the high sided cake tin; you can also use a little foil wrapped over the edge to keep them in place (but don't let it touch the filling or it will rip the top of the quiche when you remove it!).