Course: Main - Dish: Meat - Serves: 2
By Theo Michaels 
These are so good! Corned beef mixed with a little caramelised onion chutney wrapped around a soft-boiled egg and fried until delightfully crisp on the exterior with an oozing egg in the centre! Ideal for sharing boards or as a main meal. 
This recipe was created by Theo Michaels as part of our 'Eat Like a King' campaign in celebration of King Charles's coronation.
Serves 3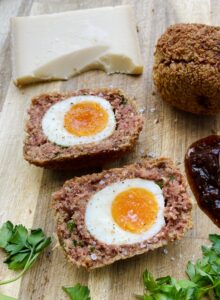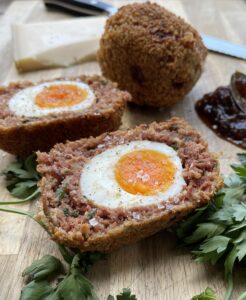 Method:
Add 3 eggs to a saucepan of boiling water for 6 minutes (for runny eggs) or 7 minutes (for slightly firmer); remove once the time is up, rinse under cold water, peel and reserve.

In a large bowl, mix together the corned beef, chopped parsley, 1 whisked egg, onion chutney and about 25g of breadcrumbs (a small handful).
Create a panné* with three bowls; one with a whisked egg, one with flour and one with the breadcrumbs. Lightly wet your hands (this stops the corned beef mixture from sticking to you!), take about a third of the mixture and roll into a ball then flatten with your hands and place one of the boiled eggs in the centre and carefully wrap the corned beef mixture around it until fully enclosed (you want the corned beef fairly even around the egg).
Once fully enclosed, gently roll the ball in the flour, then into the egg wash and finally into the breadcrumbs and ensure it is well coated. Continue with the remaining mixture until you have three large scotch eggs breaded.
Heat the vegetable oil in a frying pan to a medium heat; you can test the temperature by dropping in a pinch of breadcrumbs; they should sizzle immediately but not burn. Carefully place the scotch eggs into the oil and cook for a minute or so each side until golden brown. You're not actually 'cooking' anything, simply giving them a nice crisp exterior. Once done, remove onto a paper towel and rest for five minutes before serving. Serve as a sharing board with grapes, cheeses and more chutney or mustard or as a main dish with rustic bread and a side salad per person. 

 
*a panné is a method for coating your meat, fish, shellfish or vegetables in breadcrumbs.