Course: Dessert - Dish: Vegetarian - Serves: 2
By Theo Michaels 
"An Eton Mess just sings British summertime and this one comes with a difference! All the ingredients are store cupboard items meaning this is ideal for when you want a last-minute dessert!"
This recipe was created by Theo Michaels as part of our 'Eat Like a King' campaign in celebration of King Charles's coronation.
Serves 2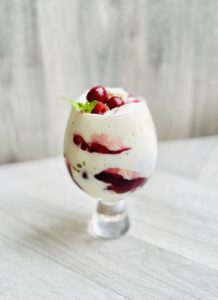 Method:
Place the can of evaporated milk into your freezer for an hour. While that is chilling, prepare the cherries. Separate the cherries from the juice and reserve the fruit for later. Add the juice to a small saucepan and whisk in the caster sugar and cornflour until fully incorporated then slowly heat, stirring as you do, until the mixture is thick and glossy (don't let it boil) and remove from the heat to cool. Tip: pour the thick sauce into a chilled bowl to cool quicker, rather than leaving it in the saucepan.

 

Once the can of evaporated milk has been in the freezer for an hour, pour it into a mixing bowl, add the cream tartare and icing sugar and whisk with an electric whisker until you have a pillowy whipped cream texture. You can place this into the freezer for 20 minutes to maintain its temperature or in the fridge for longer. 

 

Once everything is chilled; assemble your Eton Mess! Break some meringues into the bottom of a glass or small serving bowl, top with whipped evaporated milk, then a couple of cherries and a little of the sauce; continue layering until you reach the top and garnish with an extra drizzle of sauce, a dusting of icing sugar and a sprig of mint!