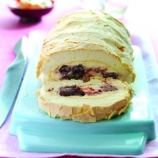 Click image to enlarge
Course: Dessert
Dish: Vegetarian
Serves: 6
Nutritional information per serving:
Calories: 178
Protein: 3.6g
Carbohydrate: 16.2g
Fat: 11.4g
Saturated fat: 7.0g
Fibre: 1.5g
Canned dairy products are a great source of calcium
Rolled Raspberry and Loganberry Meringue
A great way to add more fruit to your diet, this simple and delicious dessert is refreshing and perfect for the warmer weather.
30 minutes to prepare and cook. Serves 6.
Ingredients:
4 egg whites
180g (6 oz) caster sugar
1 tbsp icing sugar, sifted
1 heaped tsp cornflour
1 tsp vanilla essence

A few drops white wine vinegar
283g can diary cream, thickened as directed on the can
213g can loganberries of blackberries, drained
290g can Scottish raspberries, drained
Method:
1. Preheat the oven to Gas Mark 4, 180 degrees C, 350 degrees F. Line a square baking tray or swiss roll tin with bakewell parchment.
2. In a large bowl, whisk the egg whites until very stiff. Add the caster sugar a tablespoon at a time, whisking well between each addition.
3. Fold in the icing sugar, cornflour, vanilla essence and vinegar. Pile the mixture onto the prepared baking tray and using a spatula, smooth out and level off.
4. Bake in the oven for 15-20 minutes or until firm on the top and soft in the middle. Set to one side for five minutes to cool.
5. Place a sheet of greaseproof paper on a tabletop. Turn the meringue upside down onto a new sheet of greaseproof paper and carefully remove the bakewell parchment. Spread over the thickened cream, leaving a 2.5cm (1 inch) border around the edges. Scatter over the fruit and roll up like a swiss roll lifting the paper as you go. Place the roll onto a serving dish and just before dredge with icing sugar.
Canny Hint
If chocolate is more your thing, replace the icing sugar with 1 tablespoon of sifted cocoa powder for a chocolate flavoured meringue.