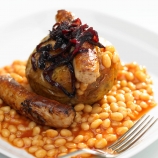 Click image to enlarge
Course: Starter
Dish: Meat
Serves: 3-4
Nutritional information per serving:
Calories: 565
Protein: 21.9g
Carbohydrate: 84.3g
Fat: 18.1g
Saturated fat: 5.4g
Fibre: 9.9g
Canned baked beans are high in fibre, which helps to reduce the risk of obesity, heart disease and diabetes
Jacket Potato with Posh Sausage, Beans & Red Onion
Jacket potatoes are a really satisfying lunch or dinner, and using fillings such as Posh Sausage, Bean and Red Onion make them even tastier.
10 minutes to prepare. Serves 3-4.
Ingredients:
3 – 4 baking potatoes
Olive oil and sea salt
1 x 400g tin of baked beans
6 – 8 pork sausages
1 large red onion sliced
2 tbsp olive oil

1 tbsp soft brown sugar
1 tbsp balsamic vinegar
100 ml of red wine
Salt and pepper
Butter optional

Method:
Oven 200C/400F/Gas Mark 6
1. Place the potatoes on the middle shelf of a pre heated oven and bake for 1 to 1 l/2 hours.
2. Heat the oil for the onions in a frying pan and cook the onions on a low heat until just soft. Add the sugar, vinegar and wine plus salt and a pepper and cook over a low heat for 15 to 20 minutes until the liquid has almost disappeared and the onions are tender and glossy. These can be cooked a day ahead and just reheated.
3. Grill the sausages for 10 to 15 minutes and heat the baked beans.
4. Cut open the potatoes, add butter and seasoning if desired. Pour over the baked beans, pop a couple of sausages on top and a spoonful of the red onions.