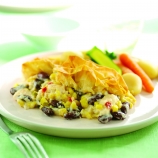 Click image to enlarge
Course: Main
Dish: Meat
Serves: 4
Nutritional information per serving:
Calories: 603
Protein: 45.9g
Carbohydrate: 68.8g
Fat: 18.3g
Saturated fat: 6.2g
Fibre: 5.4g
Canned sweetcorn is a source of folic acid, which helps normal growth development and cell renewal
Chicken & Vegetable Filo Pie
This delicious no-nonsense dish can be made for any season.
45 minutes to prepare and cook. Serves 4.
Ingredients:
2 x 418g cans chicken in white sauce
340g can sweetcorn and peppers, drained
198g can red kidney beans, drained
270g packet frozen filo pastry, defrosted
Method:
1. Preheat oven to Gas 5, 190°C, 375°F.
2. Mix the chicken and vegetables together and place into a shallow 1.2 litre (2 pint) dish.
3. Cut the filo pastry into squares approximately 15cm square (6") and scrunch up into rosette shapes, use to top the chicken mixture.
4. Brush with oil or butter and bake for 25 minutes until golden and the filling is heated through.
5. Serve either hot or cold with canned new potatoes and a selection of salad leaves.