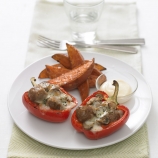 Click image to enlarge
Course: Starter
Dish: Meat
Serves: 1
Nutritional information per serving:
Calories: 697
Protein: 33.4
Carbohydrate: 71.2
Sugars: 32.8
Fat: 32.9
Saturated Fat: 10.3
Fibre: 13

Canned sliced mushrooms count as one of your 5-A-DAY
Red Pepper stuffed with Meatballs
This delicious starter or snack dish is packed with iron which prevents tiredness and contents two of your 5-A-DAY.
45 minutes to prepare and cook. Serves 1.
See "Switch 2" for more recipes devised with James Martin
Ingredients:
For the stuffed red pepper
1 large red pepper
½ x 410g can meatballs, drained
½ x 290g can sliced mushrooms, drained
¼ x 390g can Eazy onions
Pinch of dried oregano
15g of mozzarella
Olive oil
Salt and freshly ground black pepper

For the sweet potato wedges
1 medium sweet potato
Pinch of cinnamon
Olive oil

For the alioli
1 tbsp good quality mayonnaise
1 clove fresh garlic, crushed
Method:
Preheat the oven 200C/400F/Gas 6
Wedges
1. Scrub the sweet potato, dry and cut in half lengthways. Cut each half into 4-6 wedges.
2. Put the wedges on a baking tray, sprinkle with cinnamon, season and drizzle lightly with olive oil.
3. Toss the wedges, so they are evenly coated, and bake on the top shelf of the oven for 30 minutes.
Stuffed Peppers
1. Cut the pepper in half through the stalk, keeping the stalk in tact and remove the seeds.
2. Place on a baking tray lined with foil, season the inside with salt and pepper and drizzle with a little oil.
3. Combine the meatballs, onions and sliced mushrooms in a small bowl. Divide the mixture between the two peppers and sprinkle over a little oregano.
4. Thickly slice the mozzarella and lay over the meatballs. Season and drizzle lightly with oil.
5. Bake in the oven on the shelf under wedges for 20 minutes, until the filling is hot and bubbling and the pepper is tender.
Alioli
1. Add a crushed clove of garlic to the mayonnaise, season and mix well.