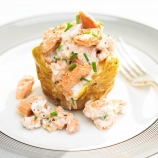 Click image to enlarge
Course: Starter
Dish: Fish
Serves: 3-4
Nutritional information per serving:
Calories: 679
Protein: 25.7g
Carbohydrate: 57.8g
Fat: 39.0g
Saturated fat: 6.3g
Fibre: 4.9g
Canned salmon contains essential Omega-3 fats, which help to regulate blood pressure and keep bodies healthy
Baked Potatoes with Salmon and Chive Mayo Filling
A must-have lunchtime snack for all salmon lovers that fills you up for lunch.
10 minutes to prepare. Serves 3-4.
Ingredients:
3 – 4 baking potatoes
Olive oil and sea salt
2 x 213g tins of red salmon
150 ml of mayonnaise

1-2 tsp of lemon juice
2 tbsp chopped chives
Salt and pepper
Method:
Oven 200C/400F/Gas Mark 6
1. Wash and dry your potatoes. Prick with a fork. Rub a little olive oil into each one and sprinkle with sea salt.
2. Place on a middle shelf of a pre heated oven and bake for 1 to 2 hours.
3. For the filling, drain the tins of salmon and break into chunks and place in a bowl with mayonnaise, lemon juice, chives and seasoning, gently combine together.
4. Cut open the baked potatoes and fill with salmon mayonnaise.
Canny fact:
You can find sustainable canned fish at the supermarket.