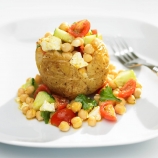 Click image to enlarge
Course: Starter
Dish: Vegetarian
Serves: 3-4
Nutritional information per serving:
Calories: 694
Protein: 20.3g
Carbohydrate: 71.3g
Fat: 38.4g
Saturated fat: 10.8g
Fibre: 5.6g
Chickpeas are a source of vitamin E, great for your skin and maintaining a healthy heart
Baked Potatoes with a Spiced Chickpea And Feta Filling
A delicious snack with a super-healthy filling, perfect for a quick fix lunchtime snack.
10 minutes to prepare. Serves 3-4.
Ingredients:
3 – 4

baking potatoes
Olive oil and sea salt
1 x 400 g tinned chickpeas drained and rinsed
1 pack of feta broken into pieces
12 cherry tomatoes – halved
Half a small cucumber – cubed
3 tbsp chopped fresh coriander

Dressing
1 tsp curry paste i.e. korma, tika
l/2 tsp runny honey
1 garlic clove peeled and crushed
1 tbsp white wine vinegar
1 tbsp lemon juice
6 tbsp olive oil
Salt and pepper

Method:
Oven 200C/400F/Gas Mark 6
1. Wash and dry your potatoes. Prick with a fork.
2. Rub a little olive oil into each one and sprinkle with sea salt. Place on a middle shelf of a pre heated oven and bake for 1 to 1 l/2 hours.
3. For the dressing combine all the ingredients in a jar and shake well. For the filling place the chickpeas in a bowl, add the cubed cucumber, cherry tomatoes, feta and dressing, season to taste.
4. Finish with chopped coriander. Cut open the baked potatoes and fill with the chickpea salad.