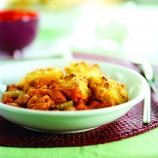 Click image to enlarge
Course: Main
Dish: Meat
Serves: 4-6
Nutritional information per serving:
Calories: 655
Protein: 31.3g
Carbohydrate: 69.6g
Fat: 29.3g
Saturated fat: 11.3g
Fibre: 8.0g
Flageolet beans provide longer lasting energy, helping you to feel fuller for longer
American Style Beans with Corn Dumplings
This American inspired dish has a variety of tastes and textures, making it a tasty teatime treat.
45 minutes to prepare and cook. Serves 4-6.
Ingredients:
4

rashers lean smoked bacon, chopped

432g

can pinto beans, drained & rinsed

300g

can frankfurters, drained & thickly sliced

1 tbsp

Worcestershire sauce

Salt and freshly ground black pepper

½ tsp salt

1

level teaspoon baking powder

½ tsp

bicarbonate of soda

115g (4 oz)

cornmeal or fine semolina

225ml (8 floz)

natural yoghurt

200g

can sweetcorn, drained

85g (3 oz)

mature cheddar cheese, grated.
Method:
1. In a saucepan, heat the oil and fry the celery, bacon and onion until lightly coloured
2. Add the beans, frankfurters, cherry tomatoes, tomato puree and Worcestershire sauce to the pan and stir together well. Bring to the boil and simmer gently for 10 minutes. Season with salt and plenty of freshly ground black pepper
3. Preheat the oven to Gas Mark 6, 200°C, 400°F
4. Stir together the flour, salt, baking powder and bicarbonate of soda in a large mixing bowl. Stir in the semolina or cornmeal and set to one side. In a smaller bowl, beat together the yoghurt, milk, eggs, melted butter, sweetcorn and Tabasco sauce. Stir this into the flour mixture briefly, taking care not to over-mix
5. Transfer the cooked beans into a 2 litre (3 ¼ pint) shallow ovenproof dish. Using a dessertspoon, spoon the dumpling mixture evenly over the top of the beans covering most of the surface. Scatter over the cheese and bake in the preheated oven for 15-20 minutes or until the dumplings have risen and are golden brown