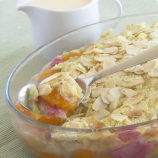 Click image to enlarge
Course: Dessert
Dish: Vegetarian
Serves: 4
Nutritional information per serving:
Energy: 518 kcals / 2177 kJ
Protein: 9.9mg
Fat: 25.9mg
Carbs: 62mg
Fibre: 4.2mg
Sodium: 0.14g
Salt: 0.4g

Canned custard is a source of calcium, which helps to keep teeth and bones strong
Rhubarb and Ginger Crumble
This recipe brings a modern twist to the traditional fruit crumble.
40 minutes to prepare and cook. Serves 4.

Ingredients:
2 x 525g cans rhubarb, drained
220g can apricots, drained
425g can custard
4 tbsp ginger preserve
150g plain flour
75g caster sugar
75g butter, chilled
100g pack flaked almonds
Method:
1. Preheat the oven to 190C/Gas Mark 5.
2. Spoon the rhubarb and apricots into the bottom of an ovenproof dish. Add the ginger preserve and stir in gently.
3. Rub the butter into the flour until it resembles breadcrumbs. Stir in two thirds of the almonds and the sugar.
4. Sprinkle evenly over the rhubarb and apricots and cook, uncovered, in the oven for about 15 minutes. Sprinkle the rest of the almonds on top and cook for another 10 minutes.
5. Pour the custard into a small pan and heat gently for 2-3 minutes until just simmering.
6. Serve the crumble with the heated custard.