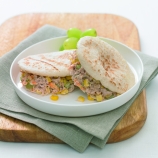 Click image to enlarge
Course: Starter
Dish: Fish
Serves: 4
Nutritional information per serving:
Calories: 229
Protein: 10.8g
Carbohydrate: 28.3g
Sugars: 5.8g
Fat: 8.9g
Saturated fat: 5.1g
Fibre: 1.6g

Canned sweetcorn is a source of folic acid which helps normal growth development and cell renewal
Tuna Spread and Vegetable Mini Pitta Pockets
These lunchbox fillers are great for younger fussy eaters and disguises the fruit and vegetables.
10 minutes to prepare. Serves 4.
See "Switch 2" for more recipes devised with James Martin

Ingredients:
6 mini pitta bread
1 x 185g can tuna, drained
100g cream cheese
8-10 green grapes, cut in ¼ 's
1 x 198g can sweetcorn, drained
1 stick celery, peeled and finely chopped
1 small carrot, peeled and grated
Freshly ground back pepper
Method:
1. In a large mixing bowl add the drained tuna and the cream cheese and mix well to make a creamy spread.
2. Add the remaining ingredients, mix well and season.
3. Stuff each pitta bread pocket with a generous amount of the tuna filling and enjoy at home or on the move!
Canny fact:
You can find sustainable canned fish at the supermarket.