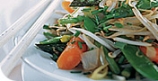 Click image to enlarge
Course: Main
Dish: Vegetarian
Serves: 4
Nutritional information per serving:
Calories: 65
Carbohydrate: 12g
Protein: 3g
Fat: 1g
Fibre: 1g
Canned green beans are a source of folic acid which is essential for healthy blood cells
Stir Fried Summer Vegetables
Try this light, simple dish – it only takes a few minutes to make and has only 65 calories
15 minutes to prepare and cook. Serves 4.
See "CAN-veniently Nutritious" for more recipes
Ingredients:
85g sugar snap peas
1 medium leek
Fry Light
85g canned carrots, drained
85g canned thin green beans, drained
85g canned fine asparagus spears, drained

2tbsp unsweetened orange juice
2tbsp light soy sauce
2 level tsp clear honey
85g canned beansprouts, drained
½tsp finely grated orange zest
1tbsp freshly chopped chives
Method:
1. Trim the sugar snap peas. Trim the leek and slice lengthwise. Rinse under the cold running water to remove any trapped earth, then shred finely.
2. Spray a non-stick wok or large frying pan lightly with Fry Light and heat until hot. Stir-fry the leek for 2 minutes until wilted. Add the carrots, green beans and asparagus along with the orange juice and stir-fry for 3 minutes.
3. Add the sugar snap peas, soy sauce and honey and stir-fry for a further 2 minutes. Add the beansprouts and orange rind and stir-fry for a further minute or until the vegetables are cooked to your liking.
4. Serve immediately sprinkled with the chopped chives.