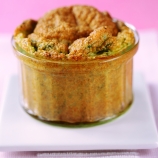 Click image to enlarge
Course: Starter
Dish:
Serves: 6
Nutritional information per serving:
Energy: 125 kcals / 525 kJ
Protein: 8.5mg
Fat: 7.1mg
Carbs: 6.7mg
Fibre: 0.7mg
Sodium: 0.64g
Salt: 1.6g

Canned celery soup is a a great store cupboard essential
Spinach Souffle
The combination of some delicious ingredients, this soufflé is a great starter for a dinner party.
50 minutes to prepare and cook. Serves 6.

Ingredients:
400g can chopped spinach, drained
300ml can condensed cream of celery soup
1 shallot, finely chopped
1 tbsp lemon juice
1 tsp Dijon mustard
salt and freshly ground black pepper
4 medium size eggs, separated
75g cooked sliced ham, diced
Method:
1. Grease 6 ramekins with a little butter.
2. Preheat the oven to 180C/350F/Gas Mark 4.
3. Place the spinach in a sieve over a bowl and squeeze the moisture out of the spinach using a back of fork. Place the spinach onto a thick layer of kitchen paper to absorb the moisture, repeating as necessary to ensure that the spinach is as dry as possible.
4. Heat the oil in a large pan and add the shallots, cook until soft but not coloured.
5. Pour the soup into a pan and heat gently, making sure it doesn't boil. Add the lemon juice, mustard and seasoning to taste.
6. Remove from the heat and beat in the egg yolks, add the shallot, ham and spinach.
7. Whisk the egg whites until stiff, and then fold them into the spinach mixture.
8. Spoon the mixture into the soufflé dishes and place in the centre of the preheated oven for 20-25 minutes, until well risen and golden.
9. Serve immediately.