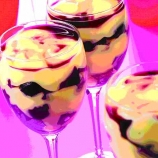 Click image to enlarge
Course: Dessert
Dish: Vegetarian
Serves: 4
Nutritional information per serving:
Calories: 257
Carbohydrate: 66g
Protein: 6g
Fat: 1g
Fibre: 3g

An 80g serving of canned prunes provides 1/8 of the RDA for iron. Iron is important for preventing lethargy
Spicy Fruit Compote Layers
This indulgent dessert with a kick is great for a last-minute meal with friends or family.
15 minutes to prepare and cook. Serves 4.
See "CAN-veniently Nutritious" for more recipes
Ingredients:
410g can pears
410g can red cherries
290g can prunes, drained
1 cinnamon stick
5 cardamom pods, lightly crushed
425g can low fat custard
8 sponge fingers

Method:
1. Pour the contents of the pears, red cherries and prunes into a pan. Add a cinnamon stick and the cardamom pods. Simmer for 5 minutes. Leave to cool and infuse.
2. Line the sponge finger in a shallow bowl and spoon over two tablespoons of the spiced juice from the pan. Leave to soak for 5 minutes.
3. Take 4 tall glasses. Place sponge fingers in the bottom, followed by a little stewed fruits (discarding the cinnamon stick) and a layer of custard. Repeat the layers. Finish with a spoonful of stewed fruit juice. Chill and serve.