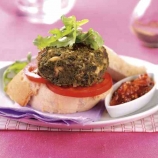 Click image to enlarge
Course: Main
Dish: Vegetarian
Serves: 6
Nutritional information per serving:
Calories: 210
Fat: 4g
Protein: 46g
Carbohydrates: 101g

Canned spinach is a great source of calcium which is essential for maintaining healthy bones
Spicy Bean Burgers
A fun way to add some vegetables to your family's diet, these burgers are also simple to prepare.
10 minutes to prepare and cook. Serves 6.
See "Ten Minute Tasters" for more recipes
Ingredients:
1 small red onion (finely chopped)
1 garlic clove (crushed)
1 red chilli (deseeded)
400g can chopped spinach, drained
420g can low salt baked beans
410g can borlotti beans, drained
198g can sweetcorn, drained
50g breadcrumbs
1 tsp ground cumin
1 tbsp freshly chopped coriander
6 slices French bread
Method:
1. Cook the onions, garlic and chilli in a frying pan for 3 minutes until softened but not coloured.
2. Meanwhile, squeeze all of the moisture out of the spinach and combine in a large bowl with the baked beans, sweetcorn, borlotti beans, breadcrumbs, cumin and coriander.
3. Mash together and add the onion, garlic and chilli mixture. Season and shape the mixture into patties, then lightly grill for 3 minutes for each side. Serve on a French bread slice with salad and relish.