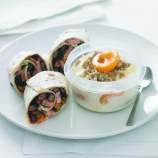 Click image to enlarge
Course: Starter
Dish: Meat
Serves: 2
Nutritional information per serving:
Spam spreaders:
Calories: 389
Protein: 47.7
Carbohydrates: 44.9
Sugars: 6.3
Fat: 16.6
Saturated fat: 6.9
Fibre: 5
Apricot yoghurt crunch pots:
Calories: 232
Protein: 6
Carbohydrates: 31
Sugars: 22.9
Fat: 10.7
Saturated fat: 3.7
Fibre: 1.7

Canned apricots are an excellent source of vitamin A, which is essential for maintaining healthy skin
Spam Spreaders and Chilli Bean Burrito Wrap
The spreaders and wrap can be made as a snack for teenagers on the go, or a quick dish when you're feeling hungry.
10 minutes to prepare and cook. Serves 2.
See "Switch 2" for more recipes devised with James Martin
Ingredients:
2 tortilla wraps
1/2 x (420g) can mexican style chilli beans, drained
100g of 300g x can spam chopped pork and ham
1 spring onion, cut into matchsticks
1/4 cucumber, cut into matchsticks
1 small carrot, peeled and cut into matchsticks
25g cheese, grated

Apricot yoghurts crunch pots:
50g Country crisp cereal
1/2 (300g) can apricots in juice, drained and chopped
100g natural Greek style yoghurt
1tbsp honey
Method:
Spam spreaders and chilli bean burrito wrap:
1. Thickly slice the spam and cut into rough chunks and place on tortilla wrap.
2. Top generously with the mexican style chilli beans, the vegetable matchsticks and the grated cheese.
3. Roll up, cut in half and serve.
Refrigerate until ready to eat.
Apricot yoghurt crunch pot:
1. Combine the yoghurt and apricots in a bowl and sweeten to taste with honey.
2. Divide the yoghurt between two pots and top with the crunchy cereal and drizzle with honey.