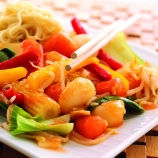 Click image to enlarge
Course: Main
Dish: Vegetarian
Serves: 6
Nutritional information per serving:
180 calories
22.2g carbohydrate
5.5g protein
8.2g fat (1.7g saturated fat)
5g fibre
There is more vitamin C retained in a canned carrot than fresh or frozen by the time it has been cooked
Sweet and Sour Vegetable Stir Fry
For busy parents, this is a quick way to provide the whole family with a fun and colourful dish that is also nutritious.
10 minutes to prepare and cook. Serves 6.
See "CAN-veniently Nutritious" for more recipes
Ingredients:
4 tbsp groundnut oil
4 spring onions, chopped
1 red pepper, deseeded and thinly sliced
1 green pepper, deseeded and thinly sliced
1x 220g can baby corn, drained
1x 220g can water chestnuts, drained
1x 410g can borlotti beans, drained
1x 220g can bamboo shoots, drained
1 x 300g can baby carrots, drained
2 Pak choi, sliced and rinsed
1 x 500g can sweet and sour sauce
serve with noodles or rice
Method:
1. Heat 2 tbsp of oil in a large frying pan or wok and stir fry the spring onions for 2 minutes. Add the peppers and stir-fry for a further 3 minutes.
2. Stir in the remaining vegetables and stir-fry for 4 minutes.
3. Add the sauce and heat gently until all the ingredients are heated through.
4. Serve immediately with noodles or rice.
Canny Tip: Mix and match fresh and canned ingredients to make this quick, easy and healthy dish.