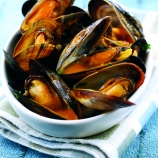 Click image to enlarge
Course: Starter
Dish: Fish
Serves: 4
Nutritional information per serving:
Energy: 354 kcals / 1491 kJ
protein: 31.9mg
fat: 14.3mg
carbs: 17mg
fibre: 0mg
sodium: 1.34g
salt: 3.4g
Canned tomatoes count towards your 5-A-DAY
Tomato Mussels
These mussels are cooked with everyday ingredients to put a modern twist on a classic dish.
10 minutes to prepare.
Ingredients:
1 kg live mussels, cleaned and debearded
1 x 295g can condensed tomato soup
200ml white wine
5 tbsp crème fraiche
Method:
1. Pour the tomato soup and wine into a large pan and bring to a simmer
2. Add the mussels, shake the pan and cover. Cook for 5-6 minutes or until all the mussels are opened. Discard any that remain closed.
3. Stir in the crème fraiche and serve with plenty of fresh bread.
Canny fact:
You can find sustainable seafood at the supermarket.