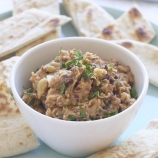 Click image to enlarge
Course: Starter
Dish: Vegetarian
Serves: 2
Nutritional information per serving:
Energy: 422 kcals / 1790 kJ
protein: 29.6mg
fat: 2.5mg
carbs: 70.4mg
fibre: 26.1mg
sodium: 1.85g
salt: 4.6g
Canned beans help to keep you feeling fuller for longer
Three Bean Pate
Nutritious and nourishing, this snack is full of healthy pulses and will keep you full throughout the day.
5 minutes to prepare.
Ingredients:
1 x 420g

can cannellini beans, drained
1 x 420g can red kidney beans, drained
1 x 400g can flageolet beans, drained
4 tbsp sundried tomato paste

1 tbsp

fresh mint, finely chopped
1-2 tbsp water
juice of 1 lime
salt and freshly ground black pepper
Method:
1. Put all the ingredients into a food processor or blender and blend well until mixed.
2. Chill until ready to serve with pitta bread or a selection of crudités.