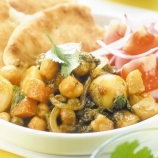 Click image to enlarge
Course: Main
Dish: Vegetarian
Serves: 4
Nutritional information per serving:
Calories: 196
Carbohydrate: 24g
Protein: 8g
Fat: 8g
Fibre: 5g
Chickpeas are a source of vitamin E, great for your skin and maintaining a healthy heart
Vegetable and chick pea balti
This is the perfect dish for a taste of the exotic – and it takes less time than a visit your local takeaway.
15 minutes to prepare and cook. Serves 4.
See "CAN-veniently Nutritious" for more recipes
Ingredients:
1 large onion, sliced
2 cloves garlic crushed
1 tbsp curry paste (strength of your choice)
2 x 392g can vegetable tikka masala
400g can chick peas, drained
400g can new potatoes, halved
265g can chopped spinach, drained
2 tbsp freshly chopped coriander
Method:
1. Heat the oil in a large pan and gently cook the onion, garlic and curry paste for 5 minutes until softened but not coloured.
2. Add the vegetable tikka masala, chick peas and potatoes and simmer gently for 10 minutes.
3. Add the spinach and mix thoroughly. Cook for a further 3 minutes.
4. Add the coriander and serve the balti with naan bread and natural yoghurt.