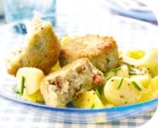 Click image to enlarge
Course: Main
Dish: Fish
Serves: 4
Nutritional information per serving:
539 calories
77g carbohydrate
22g protein
18g fat (3g saturated fat)
6g fibre
3.8mg iron
Canned potatoes contain Vitamin C, which is great for cellular growth
Thai Mackerel Fishcakes with New Potato Salad
This light dish is great as a snack or starter, and has plenty of goodness – mackerel is full of iron.
30 minutes to prepare and cook.
See "CAN-veniently Nutritious" for more recipes.
Ingredients:
For the Fishcakes:

1 x 700g canned potatoes
2 x 120g cans mackerel, drained and mashed
1 tbsp semi-skimmed milk
3 tbsp fresh chopped parsley
1 red pepper, finely chopped
Ground black pepper
4tbsp plain flour
1 egg, beaten
125g dried natural breadcrumbs
1 tbsp olive oil, for frying

For the salad:

1 tbsp olive oil
1 leek, sliced
1 x 540g can new potatoes, drained
1 orange, peeled and segmented
1 tsp whole grain mustard
Ground black pepper
2 tbsp fresh chopped chives, for garnish, optional
Method:
For the Fishcakes:
1. Drain and mash the potatoes with the milk.
2. Place the potatoes, fish, parsley and red pepper in a bowl and season. Combine together and shape into 8 cakes.
3. Dip each fishcake in flour, shake off, dip into the beaten egg and finally into the breadcrumbs. Chill in the refrigerator for 15 minutes.
4. Heat a thin layer of oil in a frying pan. Add the fishcakes in batches and cook for about 5 minutes on each side, until crisp and golden.
5. Serve with a new potato, leek and orange salad.
For the salad:
1. Heat the olive oil and sauté the leeks until soft. Add the new potatoes and toss gently. Remove from the heat.
2. Peel and segment the orange above the dish so to capture all the juices. Add the orange segments and mustards and toss once more. Season and garnish with chives.

Canny fact:
You can find sustainable canned fish at the supermarket.