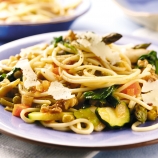 Click image to enlarge
Course: Main
Dish: Vegetarian
Serves: 4
Nutritional information per serving:
Calories: 530
Carbohydrate: 75g
Protein: 21g
Fat: 18g
Saturated fat: 5g
Fibre: 9g

Canned tomatoes are an excellent source of the cancer fighting antioxidant lycopene
Spaghetti with Italian Sauce
This dish involves hardly any preparation – just take the ingredients from your store cupboard.
20 minutes to prepare and cook. Serves 4.
See "CAN-veniently Nutritious" for more recipes

Ingredients:
300g spaghetti pasta
2 tbsp rapeseed oil
1 small onion, finely chopped
2 cloves garlic, crushed,
1 celery stalk, finely chopped
1 small courgette, finely chopped
300g can green beans, drained and halved
125g asparagus tips, cut in half
125g fresh spinach
200g can peas, drained
415g can tomato and butterbean soup
25g halved walnuts, toasted, or pumpkin seeds
50g vegetarian cheese, grated
Ground black pepper
Method:
1. Cook the pasta in large pot of boiling water as per manufacturers directions.
2. Heat the oil in a large frying pan. Add the onion and cook, until just soft. Add the garlic, celery and courgette. Cook for 7 minutes and add the green beans, asparagus and peas.
3. Stir in the soup and add the spinach, simmer gently for 5 - 7 minutes until the soup is heated and all the vegetables are cooked. Season with black pepper.
4. Drain the pasta and add to the hot vegetable sauce and toss gently.
Serve topped with the walnuts or pumpkins seeds and grated cheese.