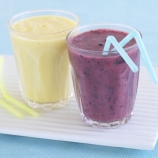 Click image to enlarge
Course: Dessert
Dish: Vegetarian
Serves: Makes 2 Drinks
Nutritional information per serving:
Calories: 126, Protein: 1.8g, Fat 0.3g Of which saturates: <0.1g, Carbohydrate: 31g, Fibre: 3g
This smoothie is great for vegtarians and is full of fruit that makes up your 5-A-DAY
Strawberry and Blueberry Smoothie
Using canned fruit makes this smoothie more affordable than using fresh alternatives – and it tastes delicious.
5 minutes to prepare. Makes 2 drinks
Ingredients:
125 g canned strawberries, drained
125 g (4 oz) blueberries
1 small banana, peeled and cut into chunks
125 ml (4 fl oz) fresh orange juice
A cupful of crushed ice
Method:
Place the ingredients in a smoothie maker, blender or food processor and blend until smooth and frothy. Serve immediately.