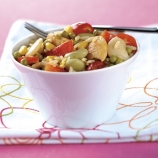 Click image to enlarge
Course: Starter
Dish: Meat
Serves: 4
Nutritional information per serving:
Calories: 476
Fat: 4 g
Protein: 46 g
Carbs: 101 g

Canned peas are a source of folic acid which supports the development of new cells and healthy growth
Simple Salad
This is so easy to make, and has plenty of pulses to provide you with vitamins and minerals.
10 minutes to prepare and cook. Serves 4.
See "Ten Minute Tasters" for more recipes

Ingredients:
1 bag Plain long-grain microwave rice
198g can Sweetcorn, drained
300g can Broad beans, drained
410g can Petit pois, drained
215g can Butter beans, drained
250g Baby plum tomatoes, halved
1 large Red pepper
1 tbsp Capers, crushed
2 Cooked chicken breasts
For the dressing:
1 tbsp Olive oil
1 tsp Balsamic vinegar
1 tsp Dijon mustard
Method:
1. Open, drain and rinse all the canned ingredients.
2. Cut the red pepper into long thin strips, skin the cooked chicken and cut into small chunks.
3. Place the rice in the microwave and cook as per the instructions on the packet.
4. Then place all the ingredients in a large bowl and mix together.
5. Place the olive oil, balsamic vinegar and mustard in a small bowl and whisk to form a smooth dressing.
6. Add the dressing to the salad, toss well and serve.