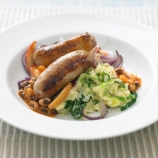 Click image to enlarge
Course: Main
Dish: Meat
Serves: 4
Nutritional information per serving:
Calories: 654
Protein: 25.7g
Carbohydrates: 65.4g
Sugars: 25.9g
Fat: 34.2g
Saturated fat: 11.9g
Fibre: 11.3g
Canned tomato soup is a great source of the cancer fighting antioxidant lycopene
Sausage and Bean Casserole with New Potato Colannon
Great for even the fussiest of eaters, this dish is an easy evening meal that's healthy and tasty too!
1 hour and 10 minutes to prepare and cook. Serves 4.
See "Switch 2" for more recipes devised with James Martin
Ingredients:
For the casserole:
8 pork sausages
1 x 295g can condensed tomato soup
1 x 415g can baked beans with hidden veg
1/2 x (410g) can black eyed beans, drained
1 tbsp vegetable oil
1 red onion, cut into wedges
2 braeburn apples, cut into wedges
For the colcannon:
1/2 Savoy cabbage, finely shredded
567g can new potatoes, drained
olive oil
2 tbsp butter
bunch spring onions, finely choopped
50ml boiling water
sea salt and freshly ground black pepper
Method:
Casserole:
1. Preheat the oven to 180C/350F/Gas 5.
2. Heat the oil in a large frying pan, add the sausages and cook until lightly browned. Add the onion and apple and fry until lightly caramelised.
3. Put the sausages, onion and apple into a dish. Pour over a can of condensed tomato soup and an equal quantity of water plus the black eyed and baked beans. Stir and bake in the oven for 30 minutes.

Colcannon:
1. Heat half the butter and a little olive oil in a saucepan; add the finely chopped spring onion and saute for 2-3 minutes.
2. Add the shredded cabbage and the boiling water, stir and cover.
3. Cook over a medium heat for 5 minutes. Remove the lid and stir until the cabbage has wilted and the water evaporated.
4. Add the new potatoes, as they begin to heat through crush with the back of a fork. Mix the potatoes and cabbage and season with sea salt and black pepper.
5. Add the butter, stir and serve with the sausage casserole.