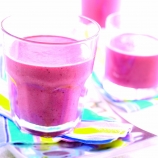 Click image to enlarge
Course: Dessert
Dish: Vegetarian
Serves: Makes 6 Glasses
Nutritional information per serving:
Calories: 77
Carbohydrate: 11.8g
Protein: 3.3g
Saturated fat: 1.3g
Fibre: 2.1g
This recipe contains three of your 5-A-DAY!
Very Berry Smoothie
Boost your 5-A-DAY in a matter of minutes with these colourful smoothies.
10 minutes to prepare. Makes 6 glasses.
See "CAN-veniently Nutritious" for more recipes

Ingredients:
150ml pint semi-skimmed milk, cold
100ml evaporated milk
1 banana, peeled
410g can strawberries in fruit juice
300g can raspberries in fruit juice
284g can blackberries in fruit juice
Method:
1. Drain the fruit juice into a bowl, reserving 300ml of the juice. Place the fruits and juice in the freezer for 1 hour.
2. Place the juice, evaporated and semi-skimmed milk, banana and half the berries into a blender or smoothie maker. Blend for 2-3 minutes until mixed well.
3. Add the remaining fruits and blend until mixed and smooth.
4. Pour into chilled glasses and serve.