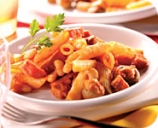 Click image to enlarge
Course: Main
Dish: Meat
Serves: 4
Nutritional information per serving:
Calories: 503
Carbohydrate: 62g
Protein: 27g
Fat: 16g
Fibre: 7g

Canned tomato soup counts as one of your 5-A-DAY and is a great source of the cancer-fighting antioxidant lycopene
Bacon, Spam and Bean Pasta
This is a simple dish to prepare, packed full with nutrients.
30 minutes to prepare and cook. Serves 4.
See "Can-veniently Nutritious" for more recipes
Ingredients:
225g dried pasta
1 tsp oil
1 onion sliced
1 garlic clove
4 rashers bacon
200g can Spam Light, cubed
200g can button mushrooms, drained
400g can low fat Italian tomato with basil soup
410g can cannellini beans, drained
Seasoning
Method:
1. Bring a large pan of water to the boil, add the pasta and cook for about 12 minutes (check pack for details).
2. Heat the oil in a large pan and cook the onion, garlic and bacon for 3 – 4 minutes. Stir in the Spam and mushrooms and cook for a further 4 minutes.
3. Add the soup and simmer for 5 minutes, do not let the soup boil. Add the cannellini beans and drained cooked pasta. Stir and serve.