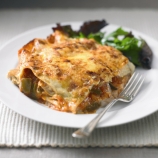 Click image to enlarge
Course: Main
Dish: Vegetarian
Serves: 4
Nutritional information per serving:
Calories: 415
Protein: 15.5g
Carbohydrate: 26.7g
Sugars: 11.6g
Fat: 28g
Saturated fat: 10g
Fibre: 2g

Canned ratatouille contains tomatoes which are an excellent source of the antioxidant lycopene
Vegetable Lasagne
This popular and affordable dish is brilliant for families sitting down for their evening meal together.
1 hour to prepare and cook. Serves 4.
See "Switch 2" for more recipes devised with James Martin

Ingredients:
6-8 sheets lasagne
2 x (283g) cans creamed mushrooms
2 x (390g) cans ratatouille
50g mature Cheddar cheese, grated
50g Gruyere cheese, grated
50g Parmesan cheese, grated

Pinch fresh nutmeg
Salt and freshly ground black pepper
600ml/1 pint milk
25g plain flour
25g butter
Method:
1. Preheat oven to 200C/ 400F/Gas Mark 6.
2. Melt the butter in a saucepan.
3. Stir in the flour and cook for 1-2 minutes.
4. Take the pan off the heat and gradually stir in the milk to get a smooth cheese sauce. Return to the heat, continue stirring. Bring to the boil then simmer for 8-10 minutes.
5. Add ½ the grated cheese and heat gently for 1 minute, whisking until the cheeses have melted, season with nutmeg, salt and black pepper.
6. Put the creamed mushrooms into a bowl and combine with ½ the cheese.
7. Put ½ the cheese and mushroom sauce in the bottom of an ovenproof dish and pour over 1 can of ratatouille. Lay 3-4 pasta sheets over the top then repeat.
8. Pour the remainder of the cheese sauce over the top of the lasagne, sprinkle with the remaining Gruyere and parmesan.
9. Bake in the oven for 30-40 minutes. Allow to stand for 10 minutes before serving.