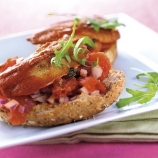 Click image to enlarge
Course: Starter
Dish: Fish
Serves: 4
Nutritional information per serving:
Calories: 235
Fat: 9g
Protein: 22g
Carbohydrates: 38g
Canned sardines are a source of vitamin D, which is needed to build and maintain strong bones
Sardine Bruschetta
This dish is a great snack, a healthy lunch, or even ideal for when you're entertaining guests.
10 minutes to prepare and serve. Serves 4.
See "Ten Minute Tasters" for more recipes
Ingredients:
2 Farmhouse style bread rolls
2 cloves Crushed garlic
400g can Peeled plum Tomatoes, drained and roughly chopped
1 Finely chopped red onion
Large handful Finely chopped fresh basil
1 tbsp Olive oil
2 x 120g cans Sardines in tomato sauce
Method:
1. Place the plum tomatoes, red onion, garlic, basil, olive oil in a large bowl, mix thoroughly and season with salt and pepper.
2. Cut the rolls in half and place in a hot oven at 220C/425F/Gas Mark 7 for 2 minutes.
3. Remove the rolls from the oven and spoon the mixture over the top of each roll.
4. Place the sardine fillets onto each roll and place back in the oven for about 4 further minutes.
Serve warm.
Canny Fact:
You can find sustainable canned fish at the supermarket.