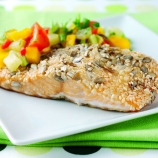 Click image to enlarge
Course: Main
Dish: Fish
Serves: 4
Nutritional information per serving:
Energy: 550 kcals / 2296 kJ
Protein: 49mg
Fat: 39.2mg,
Carbohydrates: 0.7mg
Fibre: 0.8mg
Sodium: 0.2g
Salt: 0.5g
Canned mango is high in vitamin A, which promotes healthy skin and strengthens the immune system
Salmon with Mango and Pineapple Salsa
If you are looking for a tasty and alternative lunch, this recipe is ideal.
20 minutes to prepare and cook. Serves 4.
Ingredients:
4 x 225g salmon fillets
2 tbsp sesame seeds
1 tbsp sunflower seeds
3 tbsp olive oil
Salt and black pepper
For the salsa:
425g can mango, drained and diced
225g can pineapple, drained and diced
1 ripe avocado, peeled and diced
1 small red chilli, finely diced
4 spring onions, thinly sliced
1 tbsp fresh coriander, chopped
Juice of a lime
Method:
1. Brush each fillet of fish with half the oil and season. Mix together the seeds in a shallow bowl. Place the salmon in the seeds, covering the side without skin.
2. Heat remaining oil in a large pan over medium-high heat. Sear the salmon seed-side down in the pan and cook until golden brown. Turn the fillets over and continue cooking for 3 to 4 minutes or until the flesh is beginning to break.
3. Mix the chilli, spring onions, avocado, mango, pineapple, coriander and lime juice in a bowl.
4. Serve the salmon with a generous spoonful of the salsa.
Canny Fact:
You can find sustainable fish at the supermarket.