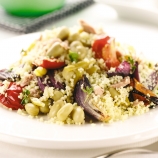 Click image to enlarge
Course: Starter
Dish: Vegetarian
Serves: 4
Nutritional information per serving:
Calories: 295
Carbohydrate: 49g
Protein: 20g
Fat: 2g
Saturated fat: 0.3g
Fibre: 8g

Canned broad beans are a source of folic acid which helps to form healthy red blood cells
Roasted Vegetable and Cous Cous Salad
This is a delicious salad, perfect as a starter, snack or side to any meal.
50 minutes to prepare and cook. Serves 4.
See "Can-Veniently Nutritious" for more recipes
Ingredients:
1 red pepper
1 yellow pepper
1 green pepper
1 red onion
1 tsp lime juice
2 garlic cloves
4 ripe tomatoes
225g (8oz) cous cous
300g can green beans, drained
300g can broad beans, drained
185g can tuna in spring water or olive oil, drained and flaked
Ground black pepper
For the dressing:
150ml red wine vinegar
50ml lemon juice
1 tsp caster sugar
2 tsp whole grain mustard
1 tbsp fresh chopped thyme
Method:
1. Preheat the oven to 200C/ 400F/Gas Mark 6.
2. Halve and deseed the peppers, and cut into thick wedges. Place on a large baking sheet. Peel the onion and cut into thick slices, toss in the lime juice and then place on the baking sheet.
3. Peel the garlic, slice thinly and sprinkle over the vegetables. Drizzle with 1 tbsp olive oil. Bake in the oven for 25 minutes. Meanwhile quarter the tomatoes. Turn the vegetables and lay the tomatoes on top. Return to the oven and continue to cook for a further 5 minutes until tender.
4. Soak the cous cous according to the manufacturer's instructions. Whilst the cous cous is soaking, make the dressing by mixing all the ingredients together. Season with black pepper to taste.
5. Drain the canned vegetables and transfer to a heatproof bowl and mix in the cous cous. Add the drained roasted vegetables and the flaked tuna. Pile the cous cous salad on to serving plates and spoon over the dressing.