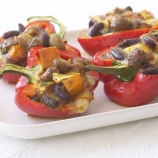 Click image to enlarge
Course: Starter
Dish: Vegetarian
Serves: 4
Nutritional information per serving:
Calories: 307
Protein: 13g
Fat: 19g
Of which saturates: 6.9g
Carbohydrate: 21g
Fibre: 5.6g

Canned curry sauce is a great time saver as it requires no preparation and can be used straight out the can
Roasted Peppers with Spiced Beans and Goat's Cheese
This recipe uses beans and pulses, which are a great way to get the nutrients that you need.
1 hour and 30 minutes to prepare and cook. Serves 4.
Ingredients:
2 large red peppers
3 tbsp (45 ml) extra virgin olive oil
1 onion, chopped
1 garlic clove, crushed
85g canned button mushrooms, drained
½ small butternut squash, peeled and diced
200g can curry sauce
400g can red kidney beans, drained
A little low-sodium salt and freshly ground black pepper
125g (4 oz) Goat's cheese, roughly sliced
2 tbsp (30 ml) chopped fresh coriander
Method:
1. Heat the oven to 190C/375F/Gas Mark 5.
Cut the peppers in half lengthways, keeping the stalk attached, and remove the seeds. Brush the outsides with a little of the extra virgin olive oil then place them, skin-side down, in a roasting tin, packing quite tightly so they don't roll over.
2. Heat 2 tablespoons of the oil in a large pan and add the onions and garlic. Cook over a moderate heat for 3 minutes until the onions have softened.
3. Add the mushrooms and squash and continue cooking for a further 5 minutes.
4. Add the curry sauce and red kidney beans. Bring to the boil, then reduce the heat and simmer for 10 – 15 minutes until the vegetables are tender. Season with the low-sodium salt and pepper. Stir in the Goat's cheese and fresh coriander
5. Spoon the bean mixture into the pepper halves. Drizzle over the remaining olive oil.
Cover the roasting tin tightly with foil and bake for 1 hour until the peppers are tender.