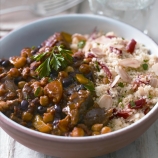 Click image to enlarge
Course: Main
Dish: Meat
Serves: 6
Nutritional information per serving:
Calories: 480
Protein: 23.9g
Carbohydrate: 70.7g
Sugars: 15.5g
Fat: 12.6g
Saturated fat: 2.7g
Fibre: 6.5g
Chickpeas are a source of vitamin E, great for your skin and maintaining a healthy heart
Rich Lamb and Apricot Stew with Mediterranean Cous Cous
If you're looking to create something exotic, this recipe is a great way to add an extra portion of fruit into your diet.
1 hour and 30 minutes to prepare and cook. Serves 2.
See "Switch 2" for more recipes devised with James Martin
Ingredients:
For the lamb and apricot stew:
2 tbsp extra virgin olive oil
1 tbsp cumin seeds, 2 garlic cloves, crushed
300g lean lamb (neck fillet or leg)
1 x 400g can plum tomatoes
390g can Eazy onions
1 x 300g can apricots, drained
1 x 400g can chick peas, drained
1 x 400g can aduki beans, drained
150ml lamb/chicken stock
1 pinch salt and fresh ground black pepper
1 tbsp tomato puree

For the cous cous:
2 tbsp flaked almonds
480g jar roasted red peppers, cut into thin strips
450g cous cous
1 tbsp fresh parsley, roughly chopped
Zest and juice of 1 lemon
1 tbsp fresh mint, roughly chopped
Salt and ground black pepper
Method:
1. Heat the oil in a heavy based saucepan, add the cumin seeds and fry for 2 minutes.
2. Add the cinnamon, Eazy onions and garlic, stir and cook gently for 5 minutes.
3. Add the lamb and cook until browned.
4. Add the tomatoes, drained apricots, chick peas, aduki beans, tomato puree and enough stock to just cover the meat.
5. Season with salt and freshly ground pepper. Bring to the boil, cover and simmer on a low heat for 1 hour, or until the lamb is tender. Stir every 20 minutes, adding a little more stock if necessary.
Cous Cous
1. Heat a frying pan; add the flaked almonds and dry-fry, tossing all the time until light brown. NB: do not leave unattended as the almonds will burn very easily.
2. Prepare the cous cous as per the instructions. Transfer to a large dish and fluff up with a fork.
3. Add the peppers, herbs, lemon juice and seasoning, stir well, transfer to a serving dish and sprinkle over the flaked almonds.