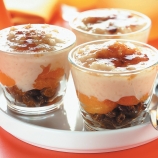 Click image to enlarge
Course: Dessert
Dish: Vegetarian
Serves: 4
Nutritional information per serving:
Calories: 272
Carbohydrate: 54g
Protein: 7g
Calcium: 227mg
Fat: 3g
Fibre: 5g
A typical 150g serving of canned rice pudding provides around 1/7 of your daily calcium needs
Mandarin Rice Pudding Brulee
This tasty treat is a great way to reach your 5-A-DAY.
A convenient pudding that can be prepared in advance and takes only minutes to get to the table. Serves 4.
Ingredients:
298g can mandarin oranges in natural juice
2 tbsp sultanas
1 tbsp rum
624g can low fat creamed rice pudding
4 tbsp golden caster sugar
Method:
1. Drain the mandarins, reserving 2tbsp of the juice. Place the sultanas in a small bowl with the rum and reserved juice. Cover and leave to soak for 2 hours. These can be left overnight.
2. Spoon the sultanas into 4 ramekin dishes. Divide the mandarin oranges between the ramekin dishes.
3. Spoon the rice pudding equally between the ramekin dishes.
4. Sprinkle the sugar evenly over each ramekin and place under a preheated hot grill until the sugar melts and caramelises. If you have a chef's blowtorch, this can be done quicker.
5. Leave the sugar to cool, then serve.