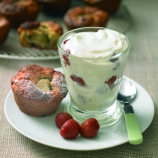 Click image to enlarge
Course: Dessert
Dish: Vegetarian
Serves: 12
Nutritional information per serving:
Energy: 518 kcals / 2177 kJ
Protein: 9.9mg
Fat: 25.9mg
Carbohydrates: 62mg
Fibre: 4.2mg
Sodium: 0.14g
Salt: 0.4g
Cans are widely recycled and good for the environment
Rhubarb and Blackberry Breakfast Muffins
These sweet treats are a lot healthier than you might think, and these muffins are another great way to your 5-A-DAY.
40 minutes to prepare and cook. Makes 12.
See "Switch 2" for more recipes devised with James Martin
Ingredients:
75g unsalted butter, melted
½ tsp bicarbonate of soda
150g plain flour
50g wholemeal flour
2 tsp baking powder
75g caster sugar
1 pinch salt
200ml buttermilk
1 large egg
½ x 290g can blackberries, drained
½ x 539g can rhubarb, drained

For the yoghurt pots:
½ x 406g can strawberries in juice, drained
150g pot greek yoghurt
Honey to drizzle
Method:
1. Preheat the oven to 200C/400F/Gas Mark 6.
2. Combine all the dry ingredients in a large bowl and mix well.
3. In a measuring jug, beat together the buttermilk, egg and melted butter and pour over the dry ingredients, carefully combine taking care not to over work the mixture.
4. Fold in the blackberries and spoon the mixture into well-greased muffin tins.
5. Make a well in the centre of each muffin with a teaspoon and add a spoonful of rhubarb. Bake in the centre of the oven for 20 minutes, and transfer to a rack to cool.
To serve:
Swirl the strawberries through the Greek yoghurt, spoon into tumbler glasses, drizzle with honey and serve with the muffins.