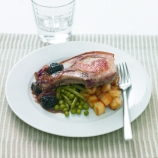 Click image to enlarge
Course: Main
Dish: Meat
Serves: 2
Nutritional information per serving:
Calories: 491
Protein: 14.9g
Carbohydrate: 50g
Sugars: 24.4g
Fat: 27g
Saturated fat: 4.8g
Fibre: 7.9g

Canned potatoes contain vitamin B6 which turns carbs, protein and fat into energy
Pork Chops with Prunes, Garden Vegetables & Garlic Potatoes
Adding prunes to this dish creates a modern twist to a traditional meal.
1 hour and 20 minutes to prepare. Serves 2.
See "Switch 2" for more recipes devised with James Martin
Ingredients:
Olive oil
2 pork chops (approx 4-6oz each, on the bone)
Flour for dusting
1 small onion, thinly sliced
Knob of butter
2 tbsp cider vinegar
½ x (410g) can prunes (in natural juice), stones removed
Pinch allspice
100ml good chicken stock
Salt and freshly ground black pepper to taste
For the potatoes:
200g potatoes, Maris Piper or a similar floury potato
1 tbsp vegetable oil
3 cloves fresh garlic, lightly crushed

For the garden vegetables:
½ x (300g) can green beans, drained
½ x (300g) can peas, drained

Method:
1. Heat 1 tbsp of olive oil in a heavy based frying pan.
2. Season the pork chops with salt and black pepper, dust with flour.
3. Brown the chops on both sides and place in casserole dish.
4. Add the onion and butter to the pan, fry for 5-7 minutes on a medium heat.
5. Add vinegar to pan, use a wooden spoon to scrape brown residue off the bottom of pan.
6. Add stock, drained prunes and allspice and simmer for 5 minutes until the sauce has reduced. Mix well and pour over the chops.
7. Cover the casserole dish with foil and bake in the oven on the shelf under the potatoes for 30 minutes.
For the Crunchy Garlic Potatoes
1. Cut potatoes into cubes about ½ to ¾ (1-2 cm).
2. Place in a pan of boiling water and cook for 5 minutes.
3. Drain well, return to the pan with the crushed garlic. Put the lid on and shake to roughen the edges of the potatoes, remove the lid and allow the steam to escape.
4. Put 2 tbsp of vegetable oil in a large roasting tin and heat on the top shelf of the oven for 2-3 minutes. Remove the tin, add the potato cubes and turn over to make sure they are evenly coated with the oil. Return to the oven, cook on the top shelf for 30-40 minutes, turning them half way through the cooking time until brown and crispy.
Garden vegetables:
1. Bring a pan of water to the boil, add the drained beans and peas. Cook for 1 minute, drain and transfer to a serving dish.
2. For additional crunch, put chunky breadcrumbs on an oven tray with a light drizzle of olive oil and a crushed clove of garlic. Bake in the oven for 5 minutes until crisp and lightly browned. Mix with the peas and beans just before serving.