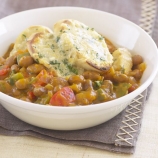 Click image to enlarge
Course: Main
Dish: Vegetarian
Serves: 4
Nutritional information per serving:
Calories: 525
Protein: 22g
Fat: 20g
Saturated fat: 6.1 g
Carbohydrates: 67 g
Fibre: 5.8g
Canned vegetable soups are great for using as a thick stock. What's more, they count as one of your 5-A-DAY
Pinto & Pumpkin Casserole
If you're looking for a hearty meal that the whole family will love, try this dish.
40 minutes to prepare and cool. Serves 4.
Ingredients:
500g (1 lb) pumpkin (or butternut squash), peeled, deseeded and chopped
2 tbsp (30 ml) extra virgin olive oil
1 large red onion, chopped
2 garlic cloves, crushed
1 red pepper, deseeded and diced
1 green pepper, deseeded and diced
1 tsp(5 ml) dried basil
400g can vegetable soup
420g can pinto beans, drained
2 tbsp (30 ml) lemon juice
1 tbsp (15 ml) fresh parsley, chopped

Cheese and herb crust:
1 small baguette
2 tbsp (30 ml) olive oil
1 tbsp (15 ml) fresh thyme, chopped
2 tbsp (30 ml) fresh parsley, chopped
85g (3oz) Parmesan, grated
Method:
1. Place the butternut squash in a large pan with about 600 ml (1 pint) water and bring to the boil. Reduce the heat and simmer for about 15 minutes until tender. Using a hand blender or food processor, puree the pumpkin with the cooking liquid so that you have a fairly thin puree.
2. Heat the olive oil in a large pan. Add the onion, garlic and peppers and cook over a moderate heat for 5 minutes.
3. Add the basil, canned soup and canned beans. Bring to the boil, stirring, and then simmer for 10 - 15 minutes. Stir in the pumpkin puree, lemon juice and parsley. Spoon the bean mixture into a baking dish.
4. To make the crust, cut the baguette into thin slices and brush with olive oil. Arrange on top of the bean mixture and scatter over the herbs and Parmesan.
5. Place the dish under a preheated hot grill for 4 – 5 minutes until the bread is golden brown and crisp.