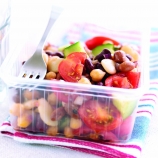 Click image to enlarge
Course: Starter
Dish: Vegetarian
Serves: 4
Nutritional information per serving:
Calories: 388
Carbohydrate: 40g
Protein: 16g
Fat: 14.2g
Saturated fat: 2.0g
Fibre: 12.2g

A serving of drained canned kidney beans contains double the calcium of the same sized serving of dried boiled kidney beans
Mixed Bean Salad
Try this simple bean salad for a great alternative to lunch-time sandwiches.
A convenient packed lunch that can be prepared the night before and takes minutes to assemble. Serves 6.
See "CAN-veniently Nutritious" for more recipes
Ingredients:
For the salad:
432g can Black Eye Beans, drained
432g can Cannelini Beans, drained
432g can Red Kidney Beans, drained
432g can Chick Peas, drained
For the Dressing:
6 tbsp Sesame or Walnut Oil
3 tbsp White Wine Vinegar
1 tbsp Runny Honey
Salt and Black Pepper to taste
Method:
1. Place the beans and peas into a large serving dish.
2. Mix together the dressing ingredients (or place in a jar and shake well).
3. Pour the dressing over the beans, mix well and leave to marinate for 2-3 hours before serving.
4. Serve on a bed of lettuce leaves with hot crusty bread.