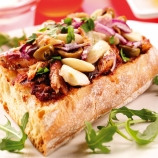 Click image to enlarge
Course: Starter
Dish: Fish
Serves: 4
Nutritional information per serving:
Calories: 462
Carbohydrate: 52g
Protein: 32g
Calcium: 213mg
Fat: 14g
Fibre: 5g
Canned beans are delicious and require no soaking - you use them straight out of the can!
Pilchard Ciabatta Pizza
Another great alternative to the takeaway, this dish is tasty and nutritious.
20 minutes to prepare and cook. Serves 4.
See "CAN-veniently Nutritious" for more recipes
Ingredients:
1 ciabatta, halved,
2

x 155g can pilchards in tomato sauce
200g can butter beans, drained
8 olives, pitted and halved
1 red onion sliced
298g light mozzarella sliced
Method:
1. Preheat the oven to 200C, 400F, Gas Mark 6
2. Lightly mash the pilchards in tomato sauce onto the ciabatta halves, sprinkled with the butter beans, red onion, olives topped with the mozzarella.
3. Bake in the oven for 12-15 minutes.
4. Serve with a crisp green salad.

Canny Fact:
You can find sustainable canned fish at the supermarket.